Thank you for coming, and please enjoy your visit.
---
Don't forget to bookmark this page .
---
It looks like we may all need to live in castles soon to protect us from our government. The United States is now a police state. For more information, click here: Martial Law
---
You can scroll down this page, or go directly to a particular state, by clicking on that state. If you click on a state and you come back to the top of the page, this means that the state that you want has not yet been loaded into your computer from the server. Wait a few seconds and try again. There is at least one castle in each state listed below.
Buying a castle is not quite as unusual as you may think, there are numerous castles currently on the market from the Scottish highlands to the opulence of France to the historic castles of the US. The financing of a castle is not dissimilar from a generic mortgage loan. It is also possible to use the value that has been built up in an existing property via a home equity loan. These castles have a history from before and it is special to be a part of its future.
2-1-12
STATE INDEX
---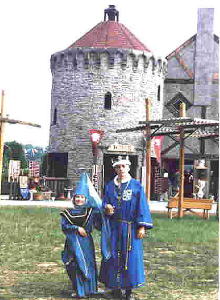 King James the Castlefinder and his lady, Queen Patricia enjoy going to renaissance festivals. This picture was taken at the Virginia renaissance festival.
After thinking for many years that we should be living in a castle, we have started building one in the kingdom of Aethelmearc (located in the mid atlantic area). Click here if you're interested in watching the slow progress of


What is a castle ? Click here for short definition
LINKS to other Castle Places to visit.
---
I am often asked about castles that are used as "Bed and Breakfast" places. This is a link to a page that lists many such castles: http://bandb.about.com/cs/uniquegetaways/a/castles.htm , take a look.
DISCLAIMER - The material on this web site was gathered from various sources. It is thought to be accurate, but it is in no way guaranteed to be so. As far as I know there is nothing on this page that should not be here. If anyone connected with any of the "castles" that are listed on this home page object to their castle being here, please contact me via E-Mail jimdupont@dupontcastle.com OR jimdupont@intergate.com If anyone sees a photo that belongs to them, please remember that these were sent in to me, and I assume that they belong to the people who sent them in. If one of these photos is yours, let me know and I'll either give you credit on the webpage, or remove it, whichever you choose.
Photos or information on this page or any of our individual pages linked to from this page may not be used for any commercial purpose without obtaining written permission from the webmaster of this site, or placing the folowing on your webpage: [ Some of the information on this page courtesy of the "Castles of the United States" webpage.]