STATEN ISLAND ARMORY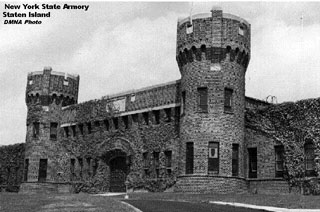 I received E-Mail that said:
I read that you were looking for pictures of the Staten Island (NY) Armory. Being a former Staten Islander I know this building very well. I have attached a picture of the Armory on Manor Road that I found on the internet. I know, the Armory is still an active post. Over the years it has housed elements of the U. S. Cavalry, NY State National Guard, and the U. S. Army Reserves. Viewing the building from the front, it looks like the classic castle used in the emblem of the Army Engineer Corps.
Back to Home Page

Thank you to B. Davis who found and sent in the photo.