"SCHLOSS VON TANNENACER CASTLE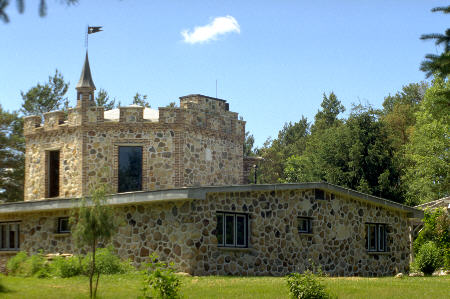 I received E-Mail from the owner that said:
The name of our castle is "Schloss von Tannenacker", translation: "castle of pine forest" I planted most of the trees during grade school, high school and still planting. Sue and I are at the point of finish landscaping.
All the work in the house was done by myself. The fire places ... there are three in the home, the largest is four feet across. I designed them to give maximum radiant heat. The back wall is curved with the focal point at the center of the fire pit and the side walls are slanted more then the "fire place" books tell you. A fireplace design ( firepit damper smoke shelf /cavity) relationship is very critical for a properly functioning fireplace.
In grade school I read the ten volume "Encyclopedia of Architecture, Carpentry and Building" printed in 1907. I also read the entire book of Mechanical Engineering and several of Frank Lloyd Wright's books.
It took over 27 years to complete the castle.
More info here:
http://www.surrealdesign.com/rj2/house.htm
To return to this page, click on the BACK button.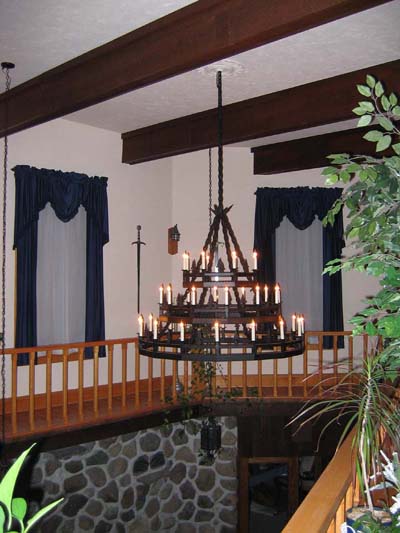 On 5-20-07, I received E-Mail from the owner that said:
This is a photo of the new chandelier I built for the castle. It is motorized, I can drop it to the floor to change the lights.
Back to "Castles of the United States"