UNKNOWN CASTLE ??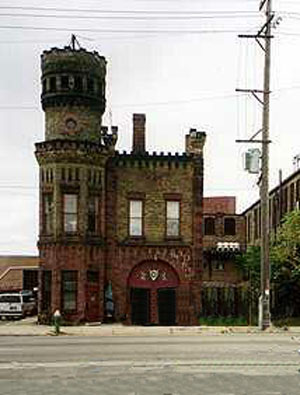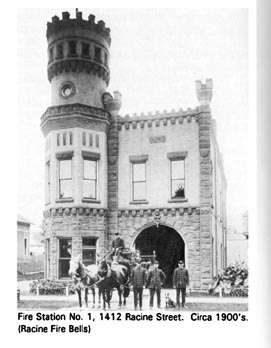 I received E-Mail that said:
There is a castle like building in Racine, Wisconsin.
Later, I received E-Mail that said:
The "castle" in Racine is actually an old firehouse. Fire Station No. 1, 1412 Racine St. My husband is a Racine firefighter. He is looking through the book to see when this one was built. I'm sending a picture I scanned from a Limited Edition Publication of History of the Racine Fire Department. The tower is actually a hose tower where the hoses would be hung to dry (which they still do) after a fire.
Later, I received E-Mail that said:
My uncle owns the castle. His name is Roger Olshanski. His story is far more interesting than simply an "old castle"
He has been on the Today show, and parts of the interior were on the show. The following article will shed some light on him... he is a very interesting character. I've spent several nights in the castle myself.
http://www.jsonline.com/enter/finearts/may00/art26052500a.asp
http://yesrick.com/053000.htm
On 1-12-10, I received e-mail that said:
Here some information on the "castle" in Racine, WI where I live: http://news.racinepost.com/2009/01/sc-johnson-to-preserve-historic-fire.html
Does anyone have more information about it?
Back to "Castles of the United States"

Thanks to Katrina Price for sending the photo.