DONDERO CASTLE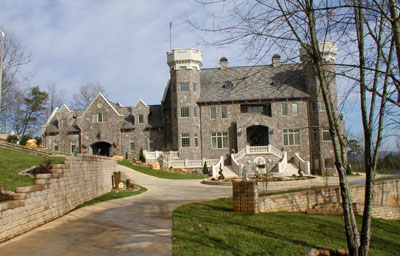 I received E-Mail that said:
Dondero Castle is 10 miles north of Chattanooga TN. The Castle sets on 3 acres over looking the Tennessee River, and Harrison State Park. Research and planning took over 2 years. Construction over 3 years. The Castle has over 20,000 sq feet under roof.
We have documented the entire process through film and photos. Much of the interior architecture pieces are either custom or old. The house also contain over two miles of fiber optic wire and a high tech security system.
On 1-30-15, I received e-mail that said:
I noticed that you do not have much information about the Dondero Castle located in Chattanooga, TN. Here is a link to an article which describes in great detail the ins and outs of the castle and its architecture:
http://www.chatterchattanooga.com/news/2012/mar/01/fit-king/

Back to "Castles of the United States"

A special thanks to Cort Dondero for sending the information and photo.