BELVEDERE CASTLE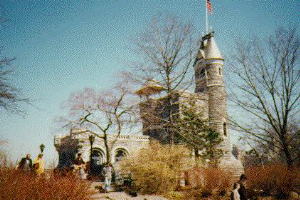 Belvedere Castle is located Manhattan's Central Park next to Shakespeare's Garden". It was designed in 1865 by Calvert Vaux and JacobWrey Mould and and was built in 1869. At one time it was used to house the New York Meteorological Observatory which was founded by Dr. Daniel Draper in 1868. Later, the United States Weather Bureau took over the observatory.
Visit their homepage by clicking here.
To return to this page, click on the BACK button.