UNKNOWN CASTLE ??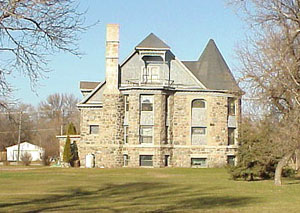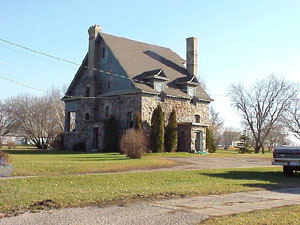 I received E-Mail that said:
I wanted to tell you about a castle in Barnesville, Minnesota. I'm not sure if it has a name, but I do know it is a private residence. I am working on getting some more background information and a picture for you.
Later, I received E-Mail that said:
I wrote to you some time ago about an unknown castle in Barnesville, MN. Just recently I was able to get some photos of this property. I still am unaware of its street address and if it has a name.
Later, I received E-Mail that said:
A friend of mine ran across your site and sent me a link to the unknown castle in Barneville, MN.
I grew up in that town and know bits of the story behind it. It was built by a doctor there, and he gathered the stones used from his patients as payment of services. It does have a street address (on Main Avenue) and is used as a residence. I am not sure of your criteria for it being a castle, but it is to every resident of the town.
After seeing the photos, I'm not sure this is quite what I think of as a castle. From one direction, it looks kind of like a castle, but from the other direction, it looks more like a normal house. I'll leave this on the webpage for a while, but I will probably remove it at a later date.
On 5-19-07, I received E-Mail that said:
The castle you have listed in Barnsville MN is called the Thompson Mansion. It is a huge property with underground parking. The last person to own it stripped the property of all its history by taking and selling all the old woodwork and fixtures never making a payment or shutting off the water. Come winter she left the property due to notices, left the water on and all the pipes burst. Weeks went buy in the cold winter before it was discovered. The Thompson Mansion the sold at a real estate auction for about 130,000. The Mansion probably needs 300,000 in repairs. The bad thing is all the history of the fixtures molding and everything can never be replaced. Now you have a little bit of history on your BARNSVILLE MN castle.
On 3--19-11, I received e-mail that said:
This castle was built by Dr. Robert Patterson in 1898. The stones used were from patients as payment for medical services. This was not the Thompson Mansion! The Thompson Mansion does still exist in Barnesville and is currently under renovation to restore it after the damage suffered from the frozen pipes.
I have had the honor of touring both the Patterson Castle and the Thompson Mansion and can tell you that both are impressive structures with interesting histories. I occupy another of Barnesville's historic homes known as the Amos C. Huxley house, and am doing constant research on the historic homes of Barnesville, MN.
Back to "Castles of the United States"

Thanks to Lori for sending in the photos.