NICHOLS CASTLE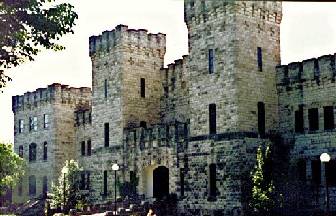 I received E-Mail that said:
You might try www.ksu.edu homepage. It is for Kansas State University, There is a building there that was built long ago that was called Nichols Gymnasium. There was a fire that burned the entire building, i'm not sure what year, and only the castle like shell was left. In the 1980's it was saved by the students from being completely destroyed and was then renovated into a live theatre and computer building. The new renovation makes the building look like a castle on the inside as well as the outside. It is now called Nichols Hall. The history of this building is very interesting.
Visit their homepage by clicking here.
To return to this page, click on the BACK button.
Later, I received E-Mail that said:
I was born & raised in manhattan kansas so I know abit about nichols gym. It burned the first time in 1966 when the students set it on fire protesting the vietnam war. I remember riding in the family car by it while it was burning & the flames shooting out the roof & windows. It was renovated into a gym that used only the lower portion & basement of the building. Due to a gas leak, the gym basically exploded in the 2ed fire. One person was killed as they were swimming in the pool at the time.
The building was boarded up for years after that untill recently when K-state completely renovated it & brought it to its current condition.
As a teenager us kids used to sneak into the shell of the building through a lose board to do " kid stuff" we never had any problems except for the campus police chasing us from the area. It was a place we could'nt resist as it was supposedly haunted by the student killed in the gas explosion.
Back to "Castles of the United States"