SEARLES CASTLE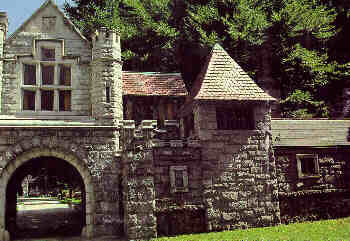 I received E-Mail that said:
Searles castle is in Methuen Mass. it was built by Edward F. Searles around the turn of the century. The actual windham castle is on the top of the hill and is beautiful! Catholic nuns live there now and a friend of mine tells me that they have changed much of the interior, it is a shame. Searles lived in the castle in Methuen, this castle has swan ponds, carriage houses, servant's houses, turrets, gates, marble imported from Italy, stone from Scotland.
The high stone walls that surrounded the castle stretched all the way to windham and encompassed the whole of Searles estate- The Stillwater Manor in Salem, N.H., the guest house in Methuen (this is where the guests would stay upon arriving to visit then they would journey to the castle) which is now the Red Tavern Restaurant. Searles also built a magnificent music hall to house a beautiful organ that once belonged to the Boston Music Hall. For some reason the town of Methuen hated Searles, everything that he built they have either destroyed or taken his name off of it. This is an absolute disgrace, they even pillaged he and his wife's tomb! It is really too bad because it would be a great tourist attraction
Later, I received more E-Mail that said:
I am a lifelong resident of Methuen, MA and find the Searles' history very intriguing. I agree that time and weather have taken it's toll on these exquisite structures, but local masons have just joined together in force to donate their time to fixing these stone walls. The Town of Methuen along with various community groups and high school student groups are trying to raise money to repair all of the walls and turrets that surround our entire town.
In 1957 the 74 room " Searles castle" was sold to the Sisters of the Presentation of Mary for $160,000. The Presentation of Mary Academy and convent now occupies this site and the Searles Chapel is known as Our Lady of Sacred Heart. The mission of the Academy is to provide a holistic approach to education, fostering and strengthening the growth and development of family and community values.
Later, I received E-Mail that said:
I am a resident of Methuen, I do not know where you received your info in regards to "Methuen Hating the Searles Family" Oh, So Untrue!!! The Town of Methuen has done everything to preserve the historic treasures that this town has, the debate over the stone walls surrounding the Tenney Estate and the Searles Estate in order to renovate the schools in town was so town wide and lasted a few years. No One in this town has ever or will never destroy the history of this town.
Later, I received E-Mail from M F Searles that said:
Edward F. Searles was born in Methuen on July 4,1841 on the sight of his beloved estate.His father died when he was very young. Leaving his mother to raise he and his brother alone. He taught organ classes in Maine in his early years and later joined Heter Brothers interior design firm of New York and was reported to be making $30,000 a year by the mid 1800's. While he was employed by the firm he was asked to go to California to do some work for Mrs. Mary Hopkins the widow of Mark Hopkins who was one of the founders of the Central Pacific Railroad. From that day on the two became friends and a number of years later in 1887 they became man and wife. They both decided to make Methuen their home .Mrs Searles died in 1891 and was buried in a beautiful mausoleum across from the estate. At this time Searles was the sole inheritor of the Hopkin's railroad fortune which was valued at $30,000,000 and except for Timothy Nolan Hopkins, adopted son of Mary Hopkins Searles, contested the will and was given a settlement of about $2,500,000 by Searles after a court battle that Searles didn't want to fight. He was a recluse and valued his privacy noteworthy of the high granite walls that surrounded the estate.
The Searles estate consisted of many hundreds of acres in Methuen but the castle grounds contained about 50 acres and most of that was surrounded by beautiful stone walls and turrets. Noted architect Henry Vaugh designed most if not all of the castle including the 70 plus room mansion ,a chapel which was a replica of the parish church in Stanton-Harcort. England where searles's ancestors lived. There also is a 50 foot stone chime tower, marble sculptures, a gate that was once Napoleon's ,an organ that rises up two stories high, a large marble room with marble from Italy.
Searles was a lover of art and most of the mansion was covered with great art works that he had collected on his many trips to Europe. He hired Thomas Ball whom he met on a trip to Italy to sculpt art works for Searles private collection. Probably work is the Washington monument which was originally on the Methuen estate until 1958 when it was sold to the Forest Lawn Cemetery in Los Angeles and it stands overlooking the entire cemetery. Although its been over 40 years it is still missed by many historic minded people in Methuen if you ever get a chance to see it you'll know what I mean.
The Serlo organ hall was part of the estate just down the street from the main buildings .It was built around 1899 at a cost of over $1,000,000 and it contains the first concert organ in the U.S. which Searles purchased at an auction in Boston Mass for $1500.00 from the old Boston Music Hall. The organ is still in use today and has been kept in excellent condition with hard work from the trustees of the organ hall. Next to the hall are more towers, turrets, and stone walls. There's the Red Tavern which was designed by Vaughn and used as a guest mansion primarily because the castle didn't have the room because Searles had such an extensive art collection.
Searles built a high school, grammar school ,many churches, miles of walls and many more buildings and structures that still exist today. Thanks to Mr. Searles' generosity and his love of Methuen many beautiful works of art and majestic buildings adorn Methuen landscape. Mr Searles died in August 1920, leaving an estate reportedly worth $100,000,000 thus ending a story of a man who was born poor and who died reportedly as the richest man in Massachusetts.
For more information goto: http://www.methuenhistory.org
To return to this page, click on the BACK button.
Later, I received E-Mail that said:
I am a resident of Windham, NH and have always been. I have not seen any discrepancies in the history of the castle once you combine the Methuen, Windham, and Great Barrington stories together. I did want to add a couple of notes. The castle in Windham, NH is only approx. 10-15 miles from the one in Methuen, MA. The one in Methuen was built first and the one in Windham was built as a "summer" home with it's own chapel and large grounds.
If you drive through the towns of Windham and Salem, NH and Methuen, MA, you will notice stonewalls. These walls were built around all the castle grounds, but were not built for any reason as in Barrington, MA. These walls were built during the Great Depression to help ease the suffering of the area. Edward had millions, but did not want to give "hand outs" to the townfolk. Instead he hired everyone that would work to build him the wall, this way they felt they were earning their money and he was not giving it away. He had these walls built for that reason only, had the Depression never happened the walls may not have ever been built.
Later, I received E-Mail that said:
Searles had owned a massive pipe organ that is now encompassed by great hall.
Later, I received E-Mail that said:
Part of the searles castle is the Methuen town hall. The town thought instead of letting it sit there and decay, they would use it for the town hall and so you know, all the items that at one time were in the castle have been sold but the town is trying to get them back. They were mostly sold by the nuns. When I was younger the town and local teen groups of Methuen would hold a haunted house walk though and I remember lots of old items in the rooms like tapestry hanging from the walls and suits of armer in rooms though out the house
Later, I received E-Mail that said:
I believe there is a misplaced post, this mail was posted on the Searles Castle Great Barrington, MA (searles2) and I believe it pertains more to Searles Castle, Methuen, MA (searles3). :
There seems to be a historical inaccuracy in one of your previous emails regarding Searles castle. The email in part states:
These walls were built during the Great Depression to help ease the suffering of the area. Edward had millions, but did not want to give "hand outs" to the townfolk. Instead he hired everyone that would work to build him the wall, this way they felt they were earning their money and he was not giving it away.
Edward Searles died in August, 1920. The depression began in 1929 with the crash of the stock market. Perhaps there was an Edward Searles Jr. who inherited the fortune???
end of misplaced post and my reply to that post:
I don't believe there was an Edward Jr., the stonewalls one sees when driving through Windham and Salem, NH and Methuen, MA are retaining walls and property stonewalls which were built in those cities during the Great Depression though Edward Searles had nothing to do with them they were built by the WPA, Work Progress Administration thanks to FDR and the New Deal. The stone walls surrounding the Searles Mansions in Methuen, MA and Winhham, NH were mostly likely just for privacy as many stated he was a private man.
On 4-17-07, I received E-Mail that said:
Searles Castle off of Lawrence street is home to Presentation of Mary Academy, which happens to be the high school I attended. Guests to your site would be happy to know that the "nuns did not ruin the property". In fact they keep tremendous care of the property and buildings. They are continually doing refurbishing projects to keep the building in great shape. In fact, the current principal is also on the Methuen Historical Society Board.
The majority of the Searles furnishing were not included in the sale, so I'm not sure where all his property may have gone before the Presentation Sisters acquired the property.
The Searles Castle grounds are kept private to instill the protection of the students so the majority of the public have never seen what lies beyond the walls. Being a student, I had the pleasure of being on the historic grounds daily for 4 years of my life. We were also given tours of the other building such as the marble rooms, atriums, private burying ground, chapel and so on. They do open tours once yearly to the general public.
Back to "Castles of the United States"