SMITH'S INFIRMARY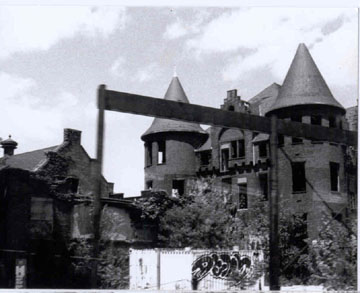 I received E-Mail that said:
I'm writing because there is a castle like building on Staten Island that could be included on your web site. It is the old Smith's Infirmary, located on Castleton Ave in the Tompkinsville section of the island. It was built in 1889 and was named for a local doctor. The infirmary later became the original Staten Island Hospital.
Later, I received E-Mail that said:
I have heard of and seen the Smith castle/Infirmary. Unfortunately, a developer was going to use the castle and turn it into condominiums and gutted the interior. The structure still stands (barely) and is nothing more than a shell. I can get a picture of it under it's present condition.
If you want pictures of the Castle when it was in it's prime or to find our more about the Ross Castle and it's true existence, then please contact the Staten Island Historical Society at:
Historic Richmond Town
441 Clarke Avenue
Staten Island, NY 10306
718-351-1611

or the executive director, John Guild at sihs-director@si.rr.com.
Now that I've seen a photo, I'm not sure this quite fits the classification of a castle. I will leave it on the webpage while I try to decide what to do with it.
Back to Home Page

Thanks to Sven Forkbeard for sending the photo.