GOTHIC REVIVAL CASTLE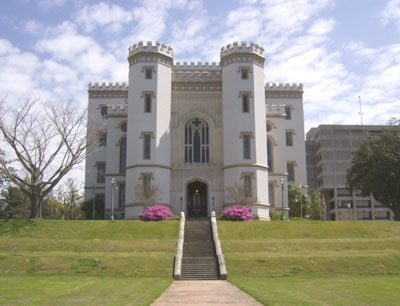 Gothic Revival Castle is located in Baton Rouge Louisiana. It was built in 1849, restored in 1882, placed on the National Register of Historic Landmarks in 1976, and again restored in 1995. Mark Twain once remarked that this was the "ugliest" building on the Mississippi river.
I later received E-Mail that said that this was once the Old State Capital Building and that it's current visiting hours are Tuesday Thru Saturday 10:00 am - 4:00 pm Sunday 12:00 - 4:00 pm.
For information call 1-504-342-0500
Later, I received E-Mail that said:
I am Erin from Baton Rouge, Louisiana. I am writing in reference to the greek revival castle you have listed. It really was the old state capitol. The hill it is sitting on is the natural levee of the Mississippi River. The man made levee is across the street from it now. Also, a piece of interesting nformation on it. It is supposidly haunted by a man. Don't know much background on this man, but they say he haunts the building. Also inside is a beautiful spiral staircaise that goes all the way to the top. If you stand in the center of the staircase and look up, it is a dome of stained glass windows on the roof. Inside they have all of the rooms that used to house the political functions, senate chamber etc........ There is alot of marble and iron work. The grounds are gorgeous. Its is oak trees and azealas and more. You can also have weddings there now. The weddings are held in the senate Chamber. (I inquired to have my own there). (they do not cater). Okay, thats it. We do have a new state capitol by the way.
Back to "Castles of the United States"

Photo courtsy of Tancy Cortez .