MATROT CASTLE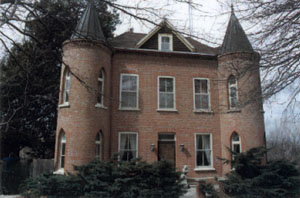 I received E-Mail that said:
I was informed several years ago about this "castle" in Topeka, and I do know of it's location, but unfortuantely it isn't a sterio-typical castle. This "castle" is the size of a house, no bigger. The story goes that a frenchman, I believe, married and brought his young bride to Kansas. Well, his bride soon grew very home-sick and he made this "castle", which really just looks like a tower, for her. I can't remember what happened to the couple, but the "castle" still bears the coat of arms on it's outer wall. It's on the westside of topeka.
Later, I received a letter that said:
My father bought the Matrot Castle, 6424 SW Huntoon Road, Topeka, KS, in 1972; did extensive renovation to the house and lived there until 1975. Some of the legends connected with the house are based in fact. From published newspaper reports, we believe that Mr. Seraphin P. Matrot, along with his wife Antoinette and their three children, fled from France to the U.S. as political refugees, to escape a (real or imagined?) political threat to his life. In his efforts to be safe, he traveled to the very center of North America and built this tiny castle in 1883, hidden in a valley between two hills and miles away fiom the (then) small city of Topeka. We believe he hoped to develop the region into a wine growing area, as in France, and we know he planted many grapes on the property, had a beautiful vaulted brick wine cellar built under the house and made his own wine. In his fear of French assassins (or possibly the Native Americans in the area?) he built an escape tunnel from the wine cellar, running west, underground, ending at a creek some distance from the house. The tunnel is gone now, but its entrance in the wine cellar still exists, but leads now into the later dug basement under a large addition added to the back of the house sometime after his death.
When my father owned the house, he added a pipe organ in that newer basement/family room, but the last time I saw the inside of the house (maybe ten years ago, when it was for sale again) the organ had not been maintained and was totally unplayable. We know that Mr. Matrot died in the house in 1898 and his funeral (such as it was, since he was known to be an atheist) was held in his upstairs bedroom. The story we heard and believe to be true is that after he was placed in his coffin, it was impossible to bring it back down the narrow spiral staircase which is the only access to the upstairs, so they had to take out an upstairs window and lower him and the casket to the ground with ropes.
As I mentioned, during my family's ownership of the house we were absolutely convinced that there was a ghost (we were also pretty sure it was Matrot, himself) also in residence. We have many stories of furniture moving, doors opening and closing, pounding noises coming from the living room floor, the sound of phantom footsteps when no one else was present, and other poltergeist type events. I had a couple of experiences myself which were very frightening, but which would take too long to narrate here. I've always intended to contact any of the later owners to see if they had any similar experiences, but have just never had the opportunity to follow up that pursuit.
Later, I received E-Mail that said:
Of recent years the "house" west of town where a frenchman lived and died had a tragedy happen / The house was lived in at that time by a banker named BRAD MILLER / His wife was found dead in the hot tub / Cause of death was an overdose of barbiturates / He later married a widow of a construction magnet named DOUGLAS who committed suicide.
Back to Home Page

Information and photo courtesy of Steve Clark.