LORD'S CASTLE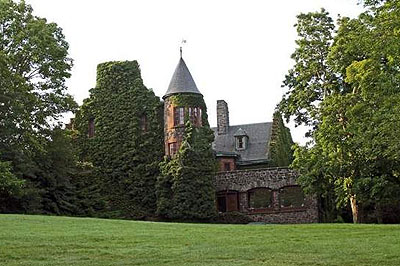 I received E-Mail that said:
Piermont, Rockland County, NY There is a castle on Castle Road - off of 9W. It is a private residence. I know of no photos!
On 3-14-09, I received e-mail that said:
The castle listed as "unknown castle" Piermont New York can be found here:
http://www.hrvh.org/cdm4/item_viewer.php?CISOROOT=/hsrc&CISOPTR=123
It has always been a private residence. Originally built by by Eleazar Lord and sold to my neighbor by Walter Lord. I grew up playing in this house. It was used for filming a few horror films of the time too.
It can be viewed on Google Satellite if you look for Castle Road in Piermont New York.
On 5-2-09, I received e-mail that said:
I have great news for you regarding your interest in the Castle UNKNOWN CASTLE - Piermont I live in piermont NY This home was originally call "the Cedars"
The first president of the Erie Railroad, Eleazar Lord, built as his home a stone Victorian mansion in Piermont, which he called "The Cedars." It is now called "The Castle" by local residents and it is occupied privately.
Piermont, New York - Wikipedia, the free encyclopedia... Eleazar Lord, built as his home a stone Victorian mansion in Piermont, which he called ... Wikimedia Commons has media related to: Piermont, New York ... http://famousamericans.net/eleazarlord/
On 1-23-11, I received e-mail that said:
I was looking at big homes I couldn't afford and stumbled on this. I believe the "Unknown Castle" in Piermont, NY is for sale. There are about 15 pictures :)
http://www.realtor.com/realestateandhomes-detail/1-Castle-Road_Piermont_NY_10968_M34666-44932
On 3-8-12, I received e-mail that said:
New York Lord's Castle:
From the site:
"Extraordinary c.1892 stone castle designed by McKim, Mead and White, America's largest and most successful architectural firm at that time. 15,000 sq. ft., 30+ room Beaux-Arts style residence located on 18+ acres and offers a separate cottage, two-story barn with classic cupola and in-ground pool. Features traditional architectural details including ornate moldings, coffer ceilings, outstanding palladium window, grand staircase, 18th or 19th century Italian Renaissance paneling and elevator. Additional appointments include 2nd floor great hall/family room and two open porches. Lower level offers a billiards room, huge old style walk-in safe, walk-in ice box room, very large prep kitchen with dumb waiter and 2nd large kitchen with original wood stove."
Picture Link:
to http://imagescdn.gabriels.net/RENO/ImageReader.aspx?IDClient=180&IDListing=180-l-971-4263857&W=400&H=300&ImageURL=http%3A%2F%2Fm.sothebysrealty.com%2F4i6%2Fhrh9sk5w1em8m1e0fzj2tem3x7i6
Article link:
http://www.sothebysrealty.com/eng/sales/detail/180-l-971-4263857/lords-castle-piermont-ny-10968
On 9-30-13, I received e-mail that said:
Some more info for you on that castle:
http://www.oldhousedreams.com/2011/08/05/1892-romanesque-piermont-ny-9-5m/
Back to "Castles of the United States"