LILBURN CASTLE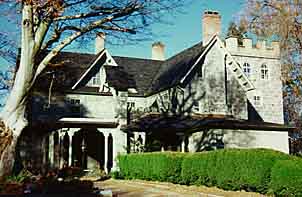 Lilburn castle is located on College Avenue, high on a hill overlooking Ellicott City, Md. It has been claimed that this castle is the "most haunted" house in Maryland.
Visit another web page with more information by clicking here.
To return to this page, click on the BACK button.
Later, I received E-Mail that said:
Well, the spooks must be at it again...Lilburn Castle just sold again. The ASKING price was 1.2 Million, but I do not know what the current owners paid. It was "for sale" until about Thursday of last week.
Back to "Castles of the United States"

Picture courtesy of Phil Bilzor.