HIDDEN VALLEY CASTLE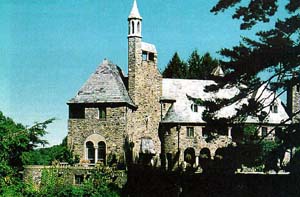 I received E-Mail that said:
In the November '98 Issue of "Unique Homes" magazine there is a listing for "Hidden Valley Castle" in Cornwall, Connecticut. This unique stone mansion with turreted features and a spired observation tower is rather attractive from the picture (I don't have a scanner).
Later, I received E-Mail that said:
"Hidden Valley Castle is set amid 270-plus pastoral acres of woodlands and open grounds with magical views overlooking a stream, ponds and a cascading waterfall. The residence dates from the 1920s and has been impeccably restored and updated throughout. The 17-room home has 8,000 square feet of living space including seven bedrooms, seven and one-half baths, nine fireplaces, beamed ceilings and leaded-glass windows. The property has numerous dependencies including a gate house and guest house."
Listed at $8,500,000 by Albert Borden Realtors.
More information can be had by going to Uniquehomes.com
To return to this page, click on the BACK button.