Castle von Gottschlich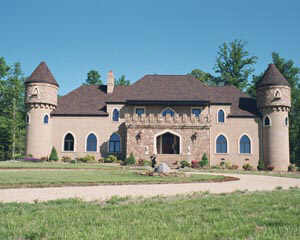 I received E-Mail that said:
This Castle is in Elon, NC. Just thought you'd like to know..;
Later, I received E-Mail that said:
I have information about the castle that someone has written to you about. This castle is actually located in Summerfield, N.C. which is a town over from mine. The "home" is recently on the market. It is located on 90 acres, 4 pastures with fencing, has a 3 acre lake, 14 stall horse barn, 4 bedroom, 4 bath, and 1 half bath. This home is still currently for sale.
I am not sure the age of the castle but I know that it was built not long ago. The property also includes other cottages.
On 3-27-05, I received E-Mail that said:
Itís located on Summerdale Rd, off Hwy 61 between McLeansville and Elon College, NC. I actually work about 10 minutes down the road from it. Someone I know had seen it and that it was for sale and out of curiosity, she called the realtor. When the builder was in college, he was telling his buddies that his dream was to have a castle that overlooked a pasture full of horses. So, years later, he built it.
We rode back in there during our lunch one day. Itís pretty nice. Itís back off the road, and the rock in front of the house in the pic actually has a ďswordĒ in it. The main part is built with a yellow brick and only the entrance and top of the turrets have rock. I think itís only about 5 or 6 years old. From what Iíve heard, the inside is very modernly decorated.
On 9-28-08, I received E-Mail that said:
Hello, my name is Jim Gottschlich. I am the owner of the "unknown castle". I conceived it, designed it, built it, own it and live in it. "Castle von Gottschlich" is located in Elon, NC (Guilford county). After 15 months of construction, I moved in Nov. 1999. It is true that I discussed my dream of building this castle with friends back in the 1970's. The castle was featured in Alamance County Magazine in 2004. It is located on my 90 acre estate "Royal Land" and contains my deluxe equestrian facilities, Royal Land Stables. You can see it on my website www.royaland.8m.com
I have just listed the property, for sale, last week with Elyse Tafeen of Coldwell Banker. The listing price is $2,050,000.00
Back to "Castles of the United States"