BUSBOOM CASTLE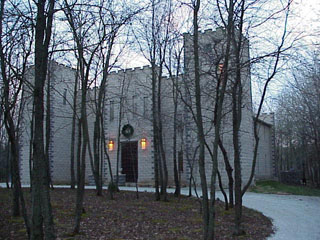 Busboom Castle is located near Dewey, Illinois, It was built by Bruce Busboom. I received E-Mail from Mr. Busboom that said:
The castle is 4800 GSF, with a poured concrete foundation 5 feet deep, 3 feet wide at the bottom and 15" thick at the top. It took 272 cubic yards just for the foundation. The castle walls are 15.5" thick, with 8" split-face block veneer (similar to Jim Dupont's), 1 1/2" air space, 2" EPS foam insulation, 2X4 studs with fiberglass, 1/2" OSB sheathing, aluminum foil and 1/2" drywall on the inside. The interior framing is 8"x 8" posts and 9"x 12" oak girders. The Great Hall is 50 feet long with a 22' ceiling - the drawbridge is at one end and a fireplace/entertainment center at the other, with a long dining table between. A trumpet fanfare actually plays when the drawbridge is lowered (for guests only - I normally use the 'servant entrance'), and gargoyles spit water some 30 feet down into the moat.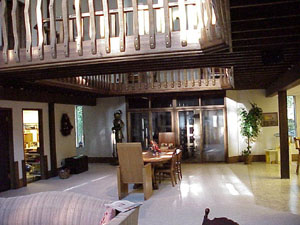 The north tower contains a three story staircase (pictured in "Vertigo") that tops out at an observation deck and a walk-out door to the main roof. This way I can stand behind the battlements and launch water balloons or hot oil. From the main roof, access to the tower roofs is gained by stainless steel pegs and handrails.
I wanted to make the castle ADA accessible, so all the doors are extra wide and there is an elevator in the south tower. I also built a stone shower that can be accessed by wheelchair, in the shape of a "9" so no glass doors or shower curtain is required. There are four bedrooms, 3 full and 2 half-baths, hobby room, parlor, large kitchen, pantry and laundry room, plus a secret 'owner's retreat'.
I did most of the work myself, but one of the best days of my life was a Saturday morning when 14 friends showed up to help notch, drill, and stand up the posts and beams that form the basic inner structure. We were done by 2:00 PM. It was probably a lot like an Amish barn-raising only we drank a lot of beer afterward!"
To get to the official Busboom Castle webpage, go here: http://www.busboomcastle.com/
Back to "Castles of the United States"

Many thanks to Bruce Busboom the owner/builder of Busboom Castle for sending the picture and information.