UNKNOWN CASTLE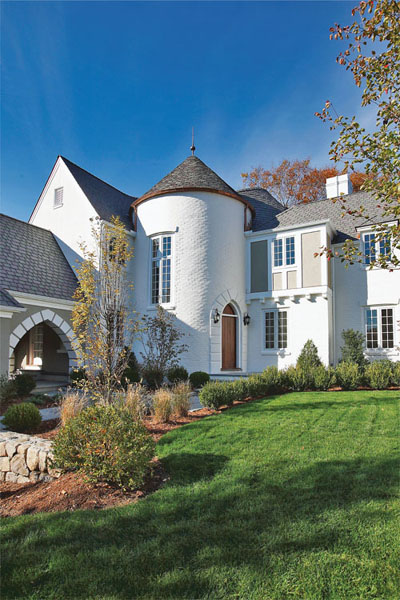 I received E-Mail that said:
When I was growing up in Stamford, Connecticut, there was a lovely white stone castle on Long Ridge Road. It was a private home, owned by the Apicella family. I was hoping that it was on your list, but maybe you'd be able to dig something up about it.
Later, I received E-Mail that said:
The mysterious castle on Long Ridge Road in Stamford, formerly Apicella's Castle, is now a nursery school known as Piper's Hill. It is in danger of being demolished as part of a luxury housing development.The property is owned by a man named Norm Fieber and his sons. It's messy and neglected (100 kids a day) but pure and unspoiled, replete with '40s bathrooms right out home furnishing magazines. Great fireplace mantel and moldings everywhere. Tel. #: 203-968-2468
On 1-27-08, I received E-mail that said;
I saw your website recently and noticed you were asking for additional information on this location. The castle was not demolished, but has been totally renovated and turned in to two condominiums that are for sale. I belive the prices start at 1.75 million dollars. I grew up in the neighborhood 30+ years ago and visited the castle often when it was a childcare center. I saw an article in last weeks Stamford Advocate about the remodel. At least they didn't tear it down. Thought you might be interested.
On 2-28-09, I received E-mail that said:
I used to live in the neighboring house before it was knocked down. We were the last family to live on the 30 some odd acres before they were built on. The house that we lived in along with the old barn, property and the castle all appeared to be haunted. The castle was amazing and you would never think it is the same building.
Part of the castle was closed down and never used for the nursery school. That part was beautiful there were about 20 bedrooms and a huge library on the second floor, there was a grand full bathroom that had a shower surrounded with old shower heads. The attic was turned into a few small bedrooms, one with round walls. There was a very large dark basement that had a room that was cemented off and supposedly a young man had hung himself in the basement somewhere.
The castle was beautiful but there were a lot of unexplained things about it and it is a shame that most of it was knocked down but the owners of the property were very money hungry. Going up the driveway on the other side of the property where we lived there was a small cemetery and while we lived there we saw the landlord and a younger man breaking down the remaining stone wall and stealing the headstones. Those men were willing to do anything to allow them to build there. I went back after the house was knocked down and the sight was horrible. There were thousands of homeless animals circling the property and when I went back after they rebuilt I did not even recognize the castle, it is less than half the size and looks more like a modern home then a castle.
Does anyone have more information on this?
Back to "Castles of the United States"