COOKE CASTLE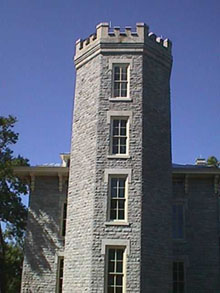 I received E-Mail that said:
Jay Cooke was born in Sandusky, Ohio on August 10, 1821. He eventually moved to Philadelpia and started the banking house of Jay Cooke and Company in 1861. Gibralter Island was purchased by Mr. Cooke from J.D. Rivera St.Jago, on January 27, 1864 for $3,001. Construction of Cooke Castle started in the spring of 1864. The Cooke family lived in the castle for four generations.
The castle is now in the process of being renovated. The restoration began in 1998 with a new roof and windows to help protect the building from the elements. The restoration is continuing with mortar work and when finished, the interior work will begin.
Later, I received E-Mail that said:
For more information about how you might support this effort, contact:
Cooke Castle Restoration
190 N. Oval Mall
Room 108
Columbus, OH 43210
Click here to visit another site with more information:
http://www.osu.edu/cookecastle/rest_phts.html
To return to this page, click on the BACK button.
Later, I received E-Mail that said:
The Jay Cooke Castle isn't on the same island as Lonz Winery, the island it is on is located about a mile away. However you can stand in each and see the other. But take my word, as I have been in both buildings and the Cooke Castle has it's own story to tell. (Jay Cooke worked with Abraham Lincoln and financed the better part of the civil war on the northern side.)
Back to Home Page

Research for this page done by Phil Bilzor.