LUMMIS CASTLE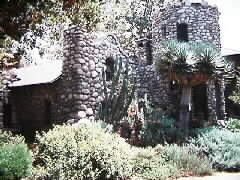 Lummis Castle (sometimes known as El Alisal) was built by Charles F. Lummis with his own hands. It was built of granite boulders and concrete between 1896, and 1910. Lommis was born in Lynn, MA in 1859, and moved to California. He walked there from Cincinnati, and along the way, he wrote stories which he sent to the Los Angeles Times.
The castle is located at:
200 South Avenue 43
Los Angeles, CA 90042
Phone: 323-222-0546

More info here:
http://www.bob-taylor.com/lummis.htm
To return to this page, click on the BACK button.
Does anyone have more information about it?
Back to Home Page

Thanks to John A. Bahr for finding the info on this castle.