SHERMAN OAKS CASTLE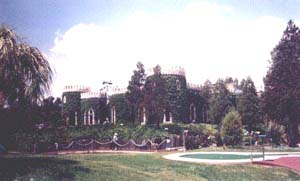 I received E-Mail that said:
Another one I didn't see listed on your page was one I saw the last time I was in LA , on the 101 freeway as you come into Hollywood (near universal studios area) if you are heading south there is a quite large castle fairly close to the freeway on the right side. This looks like Cinderella's Castle at Disney land .... I dont know if it is a resaurant or what it is ... but it is fairly huge I dont think it is a mini golf park.
Later, I received E-Mail that said:
Jim, I found it (the Hollywood unknown)!!! This can be seen from the Rt.101, just as your e-mailer has said! (see map) And a nice looking castle it is!
Later, I received E-Mail that said:
The castle off the 101 Ventura Fwy in Sherman Oaks, California is indeed a miniature golf course. They also have an arcade and batting cages. I believe it's called The Castle Golf and Arcade. I know for sure the batting cages are called Castle Batting.
Later, I received E-Mail that said:
The Sherman Oaks Castle is a great 4-course mineature golf place, and it is located at the intersection of the 134 and 405 Freeways on Sepulveda Blvd. next to a National Guard armory. A great arcade inside the castle, too.
On 6-4-11, I received this link:
http://www.laparks.org/shermanoaks_castlepk/index.htm
Back to "Castles of the United States"

Research for this page done by Phil Bilzor.