THE CASTLE ON LITTLE RIVER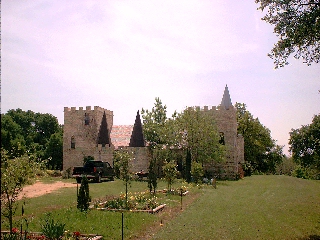 There is a lovely castle in Buckholts, Texas. I received an E-Mail from the owner which said:
I have built the house entirely by myself in my spare time over the last 20 years. It is about 5,500 square feet and has a dungeon under the NE tower. It has 16 rooms and 3 baths. Construction began in 1983 and continues to this day. 4 rooms are unfinished on the inside.
It features:
An observatory in the top floor of the NW tower with a 12.5" telescope and doors that open in the ceiling for viewing.
A 23 X 23' "Jungle room" in the center with live plants, fish, birds, and a spa and sidewalks. It has 3 patio type doors in the south, west, and north walls. The walls have photo murals of mountains on all 4 sides with blue sky painted above so when you are standing in the middle it feels like you are in the mountains.
A "Great room" that is 23 X 36 feet that has a 21 foot high stained and varnished trussed ceiling and is decorated with medieval swords, etc. It has a 11 X 11 entry foyer with swords on the walls.
I laid 120 tons of limestone rock on the exterior.
It has a 7.5" gauge railroad that circles it, which has both steam and diesel locomotives and carries people.
I have a website at: http://www.homestead.com/lrmrr/

For more information, contact:
John H. Greiner Jr.
4681 Co. Rd. 104
Buckholts, Texas 76518-2742

Nice Castle!!
Back to Home Page

Thanks for Katrina Price for finding this castle, and to John Greiner (the owner) for sending the information.