CHRISMARK CASTLE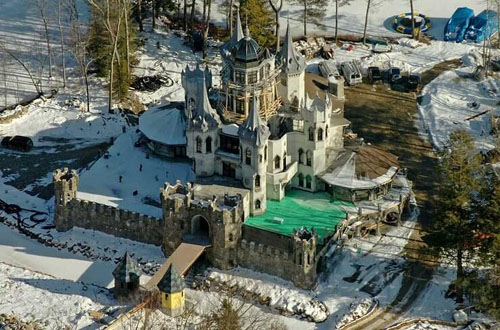 On 9-15-09, I received E-Mail from Jeff at dreamsofcastles.com
Jeff said:
I think this one might qualify as a castle! Quite the structure, I didn't see it on your site. Here's a link to where I found it:
http://www.telegram.com/article/20080302/NEWS/803020412/1116
I agree with Jeff, quite a structure.
On 11-6-14, I received an e-mail that said:
Jim – Based on the two articles (mine and the one on your website) this real estate listing is the same castle that you have listed as Woodstock, CT with question marks. It appears that the photo you have was before the project was completed. Christopher Mark is identified as the owner of each.
Chrismark Castle is in Woodstock, CT.
http://www.businessinsider.com/chrismark-castle-in-woodstock-ct-2014-9?op=1

Back to "Castles of the United States"