BONNIE CASTLE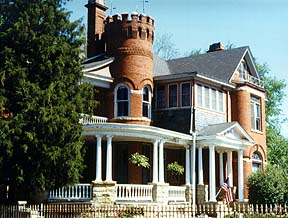 I received E-Mail that said:
There is a castle in Grantville Ga. It's called Bonnie Castle. It's an adorable little castle that sits in the center of this very small town. I can try to get you a picture of it. It's been said that Rosevelt stayed there many times when it was a bed and breakfast many years ago.
Later, I received an E-Mail with their website address.
Click here to visit another website:
http://www.bbonline.com/ga/bonniecastle/index.html
To return to this page, click on the BACK button.
Later, I received E-Mail that said:
Here's another site for Bonnie Castle, which seems to be for sale -- $960,000.
http://www.historicproperties.com/detail.asp?detail_key=Segra001
It has a link that shows interior photographs. This is also a good site for browsing big old houses, not necessarily castles.
Does anyone have more information about it?
Back to "Castles of the United States"