FREELAND CASTLE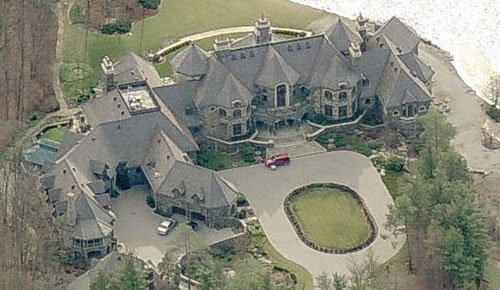 I received E-Mail that said:
A man named Bill Feeland (I think its Freeland) just had a huge castle built in the South West section of Fort Wayne in Aboite Township. I think its in excess of 46,000 square feet and looks like it came from France or England. He owns the local Pizza Hut restaurants. Unfortunately I don't have a lot of information on it.
This one is magnificant. Right down to ponds, walk bridges and the "whole nine yards". They have already made arrangements on their deaths to have it willed to be maintained as a museum and it has been the "talk of the town" for the last several years.
Later, I received E-Mail that said:
Here's a link to a story in the Sentinel from Dec. 2003. It looks like it at one time contained a picture to the UNK in Ft. Wayne on your site. I can't access the photo.
http://www.fortwayne.com/mld/newssentinel/7522299.htm
Owners of Allen County's other top-10 homes declined to comment, but county records offer this profile of the property:
* Owners: Richard and Deanna Freeland, owners of a chain of Pizza Hut restaurants.
* Address: West Hamilton Road, Aboite Township
* Previous value: $3.79 million
* New value: $5.87 million
* Percent increase: 54
* Current annual property tax: $80,678
* Features: 39.7 acres, 19 finished rooms, horse barn, separate bunkhouse
Later, I received E-Mail that said:
It does look like a castle. It is gigantic. All beautiful dark granite-looking stone, large towers...It is suppose to be over 30,000 square feet and, to build, cost him over $35,000,000. I know a lot of the amish crews that helped work (an on-going project of many years) on it because my dad and I are builders. Anyhow, he has a lot of genuine European castle antiques that he purchased to decorate the inside. Dick Freeland is a huge republican and has actually built a presidential suite inside it for political visits (He even has a helocopter landing pad on top, it is said).
The place is something else. It is very hard to see because it is way off the road in a large woods with a big pond around it, but since it is winter, I could probably get a decent picture. It's about 35 minutes from where I live so it may be a couple of weeks before I get there, but I'll try to send you a picture when I do. It is definitely the neatest place I have ever seen...including MTV's Cribs, and Travel Channels Amazing Vacation Homes. I'll definitely try to get you more information as soon as possible. It's a real dream home.
On 7-12-05, I received E-Mail that said:
I did a little Googling and found this that just might be a picture of the Freeland castle in Fort Wayne, IN.
http://www.almetinc.com/img/freeland.jpg
It's a picture from a company doing steel work in that area. It's possible if you contact the "almetinc" site you might get some further infromation.
On 9-18-06, I received E-Mail that said:
I actually live roughly 10 houses down from DICK not bill Freelands, I could get you a picture of it if you wanted. Both of my parents have been inside his residence for various Art auctions and what not. I do not know if you included this in your info but the house also includes a Jungle section. He also has a bridge that spans about 30-50 yards across the "lake like" pond that his house overlooks.
On 1-20-10, I received e-mail that said:
There are three houses on the farm. The lake was man made and it took about a year to finish. The mansion was near 48,000 sq feet and it took around 15 years to complete.
The house does not have a presidential suite although Dick is good freinds with the Bushes and they have visited a number of times. The house does sort of have a jungle section with a bunch of tropical plants, we called this room the green room. They kept their birds in this room and some fish in the bottom of a fountain. The house does not have a helicopter pad on top. It does have a lot of rooms along with a library. The house has 4 story's 5 if you count the attic which is like a bunch of long hallways leading to other parts of the home. It also has 2 old style elevators with the sliding cages that you would see in a old hotel. The house also has a large wine room and a large walk in freezer.
The pond is stocked with bluegill catfish bass and walleye. The barn has I think 10 stalls along with what we called " the tack room" which is pretty much like a really nice living room and small kitchen. Above it is a bedroom with one bunkbed and one regular bed and a bathroom. Also, the house is known to everybody else in Fort Wayne as the pizza hut mansion not castle.
On 3-7-10, I received e-mail that said:
I have lived in Fort Wayne for 12 years. I own a remodeling company and before I started I worked on several projects at the Freeland Castle. The owner/builder of the Fort Wayne Castle is Dick Freeland. Dick owns many of the Pizza Huts around this area.
There is more to the property than is shown in your picture. There are a few out buildings for guests, vehicles, shops and horses. It is quite an amazing home. I am friends with many of the workers who built, carved, painted etc. in that home over the years. I am not sure if the property is in the incorporated Fort Wayne area or Aboite which is a neighboring area to Fort Wayne.
Dick is a hardworking and pleasant man. I have never met his wife. It is rumored he will one day give it over to Fort Wayne for use as a museum. I do not know if there is any truth to that. It is their home, guarded and people are not welcome without invite. He does invite people for events. I am not aware of any tours ever being offered. While I was working there we were told photographs were not allowed to be taken. I know of passageways and secrete doors and such but will respect Freeland's family's privacy. One tidbit I will tell is this, at the front there are two (almost) matching circular tower stair entrances. Inside at the top of each are beautiful built-up crown mouldings. These were designed and drawn and were to be built on site. They were completely done when I got there. As I stood looking up at one I immediately realized it was built upside-down. If I remember correctly the West crown is correct but the crown in the East tower is the one that is inverted. I asked a couple people about it but it seems no one (except possibly the builder who is keeping his mistake hidden) knew about it. Until now I may have been the only one who knew. I would like to know who it was that screwed that up! It would have been a very expensive mistake to fix. So they left it that way. I have not been inside for eight years but it still bothers me to this day. I am sure glad it wasn't me who did that. It looks beautiful to everyone but it a terrible flaw to my eyes and anyone who knows how crown moulding should be designed.
On 10-11-10, I received e-mail that said:
I live near Fort Wayne, and for many years I have been told about the magnificent Pizza Hut Castle. I now live 3 miles from this beauty. Much of what you have is correct to my knowledge, as far as size.
In the winter they place a candlelight in each and every window which overlooks the lake. You can see this through the bare trees from the road. It is breathtaking to see this castle through the trees. No one so far has mentioned how very kind this man is. I have not met him, though many of my friends have. Some teenage kids I know work at his Pizza Hut stores; he invites many of them to his house around the holidays. This is usually unheard of in my opinion; they all speak very highly of him. Yes, he owns MANY original European artifacts, and much of the stone was also imported.
Much of the property is dedicated to his primary business now, which is breeding Arabian horses. He has a veterinarian from South America who lives on site and he performs in-vitro with egg and semen then implants it into a regular quarter horse. As you can imagine, he has secure premises, gated from every entrance.
Dick and Deanna bio:
http://www.ja.org/nested/ftwayne/DickDeanna_Freeland.htm
Their website:
http://www.freelandfarms.com/
More photos at:
http://www.bing.com/maps/default.aspx?v=2&cp=41.032866~-85.305962&sty=o&lvl=2&tilt=-90&dir=0&alt=-1000&scene=13523136&encType=1
On 3-12-15, I received e-mail that said:
Dick Freedland has now passed away. I don't know if you can find any more information about his estate.
On 3-20-16, I received e-mail that said:
Freeland Castle is now for sale.
Back to http://www.realtor.com/realestateandhomes-detail/5501-W-Hamilton-Rd-S_Fort-Wayne_IN_46814_M42479-19209#photo2
On 4-24-17, I received e-mail that said:
Here's 'the latest' on the Freeland castle in Fort Wayne, IN.
http://www.realtor.com/news/unique-homes/indiana-most-expensive-house-freeland-estate-is-30-million/
Back to "Castles of the United States"