AMSTERDAM CASTLE
formerly - DIANA'S CASTLE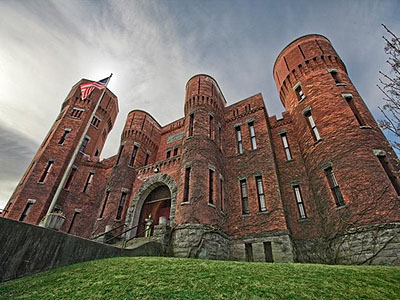 I received E-Mail that said:
Hi! Just located this on eBay! Diana's Castle in NY is FOR SALE! Sixteen bids have brought the price up to $301,100, but the reserve hasn't been met (duh!).
On 4-17-06, I received E-Mail that said:
Hello Jim, I was reading your webpage with interest. We purchased the Diana's Castle in upstate New York recently and LOVE living in a castle. We are renovating and working with a historical architect to return it to the beautiful structure it was in 1894 when it was used by the National Guard as an armory.
If you have time to update this link, it is not longer Diana's Castle in Amsterdam, it is now Amsterdam Castle in Amsterdam. Here is our webpage if you would like to have a look: www.amsterdamcastle.com
On 6-28-08, I received E-Mail that said:
Check this out:
http://www.luxist.com/2008/06/23/amsterdam-castle-estate-of-the-day/?icid=200100397x1204891634x1200215768
On 4-24-13. I received e-mail that said:
Check this out:
http://homes.yahoo.com/blogs/spaces/house-flippers-t-unload-york-castle-002931672.html

Back to "Castles of the United States"