UNKNOWN CASTLE ??
LUSK CASTLE??
HASSE CASTLE ??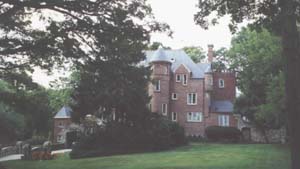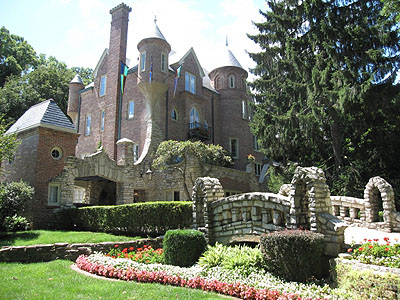 I received E-Mail that said:
I grew up in peoria, illinois...in peoria heights on grandview drive overlooking the illinois river is a spectacular castle-house...i now live in cleveland, ohio and every time i visit peoria i take my family by it....best regards, vic
Later, I received E-Mail that said:
There was an mention of a castle along Grandview Drive in Peoria, IL. I took my little camera along for a bike ride along Grandview recently (and the view really is grand!), and got a couple of shots of the alleged castle. It looks like it is really the Peoria Country Club. A very impressive building, apparently going for the appearance of a small castle, with many interesting details.
Later, I received E-Mail that said:
I, too, was born and raised in Peoria, Illinois. I am very familiar with the castle in question. In fact, in Peoria, that is simply the house's name. It's simply known as "the castle". It sits high on a river bluff about the Illinois River on Grandview Drive, along with may other spectcular homes, all of which are still private. At that point the view looks up river about 10-15 miles. Many years ago, Teddy Roosevelt called it the "world's most beautiful drive" and a radio and TV station still go by WMBD as their call letters.
My father told me that the home was built in the era of the 20s, I believe. He passed away a few years ago, so I can't verify this. The story was that a young couple was married and went to Europe on their honeymoon. While there, the bride sketched many castles and upon their return, her father commissioned this house. In the 80s my father told me the family who lived there would open it up to trick or treaters on Halloween. I don't know if that is true, but he did say I was welcome to come visit when I was in town. Unfortunately, I was never able to take advantage of that offer.
One of your contributors suggested it is Peoria Country Club. Unless CC of P has bought it recently that is not true. CCP is across the road and down a few yards. I worked there as a lifeguard in the 60s and loved it because no matter how I went to work I always went past the castle! The club's golf course is right behind the house and the golf pro shop is adjacent to the castle property, so I can understand how that might be envisioned.
I wish I could be of more help. The picture someone sent in is a farily good one except is does not do the house the justice of a beautiful crisp, fall day when the leaves are in color. It is spectacular to say the least and the house is very well maintained.
Later, I received E-Mail that said:
The "castle" is indeed located on Grandview Drive across from the entrance to the Peoria Country Club. It was built by the Lusk family in the 20's or 30's and is still occupied by subsequent owners. Julie Lusk, daughter of the builders, grew up here and was married for a time to Jack Lemmon. The building consists of many small rooms, some of which have interesting shapes due to the form of the building. The building was designed "from the outside in", accounting for the floor plan inside. It was in good condition when I saw it last, which was about six years ago.
Later, I received E-Mail that said:
I grew up just a couple of blocks from the castle. I can confirm that the story about "opening it up" on Halloween are at least partially true - it was one of the high points of my yearly trick-or-treating route. Back then, we kids would go out by ourselves because there were no rumors (and that is all they are) of people handing out poison and hidden razor blades to kids in candy.
My memory isn't exact (this was, after all, in the early 60s) but I remember that you had to walk through a covered, enclosed area to get to the front door. The lights would be dimmed and there were spooky sounds playing - some kind of Halloween sound effects record, I assume. It was great!
Later, I received E-Mail that said:
I too was born and raised in Peoria and lived within a mile or so of the castle on Grandview Drive for all of my years there. We delivered the paper route up and down Grandview Drive in the mid to late sixties. That was one of the stops. Always a private residence as I recall. Never knew who lived there though. Fog rolling off the river and the voluptuous greenery of the bluffs on both sides of the river made it a magical place to grow up in. Kind of a city secret until the late eighties, when I began to see cars full of Japanese tourists pile out of cars to snap pictures! How different to my childhood, when it seemed only Peorians knew of the rather eccentric building across from the Country Club tennis courts. The picture on your website really doesn't do it justice. It is a beautiful building, beautifully situated and very well maintained. I always wanted to live there when I was a little girl. I drive by it everytime I go back for a visit. The name is "The Castle". That's all we ever called it. That's what it's still called. I never heard it called the Lusk Castle.
Later, I received E-Mail that said:
I was checking history on my street when I found this site with that castle. I know the people who own it. It is not the lusk castle it is now known as the Hasse Castle. It was also said to be built by a princess in the early 1900's. It has an indoor pool and is across the street from the Country Club of Peoria and next door to the country club's golf course. Across the street on the other side is the beautiful Illinois River. I live on Grandview Dr. and have to pass their house all the time. Every halloween thousands of children go there to go up and get a pencil from Mr. H. and they have all sorts of people that they hire to follow you and chase you. It is loads of fun. Everyone knows that castle. People from the surrounding cities come.
Later, I received E-Mail that said:
I was in the "castle" in Peoria when I was a little girl. (mid 1940's) My parents farmed a farm near Minier, IL that belonged to Mrs. George Lusk's (Helen) mother, Mrs. Chubuck (lived in a huge brick house before you got to the castle). What I remember was Helen took us (my brother and I) up (I think 3 stories) to I guess it was an attic to this little room and in this room was a huge hand made doll house. Completely furnished and sitting on a fur rug. She was concerned that mice had gotten in the doll house. It was awesome. And, I remember George Lusk when he came to the farm. He always told my Dad to "Take care of number one".
We always called it the castle. I didn't know that everybody called it the castle. Channel 47 had a documentary about the castle and I was so excited because I remember the people and the castle! I was 7 -9 years old at the time.
Later, I received E-Mail that said:
This photo is of the castle in Peoria, IL on Grandview Drive. It is the Hasse Residence. There is also a castle on Castle Lane in East Peoria, IL.
Later, I received E-Mail that said:
I lived in the Grandview Drive Castle from about 1962 to 1972. My family owned it and restored it. The Haase's bought it in the 1970's when Dad became ill as I recall.
My father, Walter F. Dexter, bought it for the princely sum of $50,000 from the Lusk family who had owned it since it was built in 1928. By 1962, the home had been used little and was in need of serious major renovation, which took a couple of years and an investment many times the purchase price.
It will alway remain for me the source of many fond memories, good times and spooky fun! It was said to be haunted, and well -- we did hear plenty on stormy nights!
Dan Dexter Later, I received E-Mail that said:
I am another Peoria Heights native who grew up about three blocks from the castle. I grew up on Glen Avenue, the street that dead ends into Grandview Drive.
The castle is unbelievable and gorgeous, and when I went there for Halloween in the 70s and 80s, the owners did dress up and scare us to add to the atmosphere of the holiday. It was so much fun! We always saved the castle for last on our trick-or-treating route.
Thank you for displaying it! It is truly a beautiful home in a stunning setting. Grandview Drive is in one of the best areas I've ever seen in the rather flat, dull Midwest, and I feel extremely lucky to have grown up so near it.
Later, I received E-Mail that said:
I, too, have been in the Lusk Castle located on Grand View Drive in Peoria, Illinois. My mother's aunt was friends with the lady I believe was the Nanny to Julie. We were invited into the house and we were taken out to dinner by this lady. Driven to the restaurant by the Chauffeur in the family limo.
The lady we went to see was named Bess Edmundson. She gave me a copy of her book entitled "Melinda's Doll House." published by Dorrance Publishing Co. in 1963. The book is out of print but can be found online. This is the story of the Castle, how it came to be, and of the little girls who lived there.
Later, I received E-Mail that said:
I cannot remember who the original owners of the castle on Grand View Drive is still privately owned by the Hasse family, the same who own Hasse Flowerland on Glen Avenue. I was born and raised in Peoria and moved to Arizona in 1979. My parents knew the Hasse's and several other families that lived on that street.
The castlehome sits accross the street and kaddy-corner like from the Peoria Country Club. One fun point of interest you may add, back in the mid 70's MGM picture studio had an auction of props. Bidding for the crystal chandelier from the Atlanta House in Gone With The Wind came up for auction. The Hasse's went specifically for that item after they bought the house. Several people were bidding on it and the bidding went down to them and Debbie Reynolds. Of course I will not say what they paid for it, but it is hanging in the large circular entryway in the home still today.
On 6-15-07, I received E-Mail that said:
I just have to chime in regarding our local Castle! After reading all the other comments about Halloween at the Castle I just wanted to let you all know that it still goes on! Now it is only outside. But there are many people dressed up as monsters and such. Each year it is a bit of a different theme but always spooky! There is always a very long line of kids waiting to be handed their pencil with the engraving "Happy Halloween from the Castle".
The Castle is a real source of pride for many Peorians. I don't know how true this is but I was told that all the stones that make up the bridge were shipped here from England. My 8-year-old grandson has always loved to drive by the castle and has weaved a pretty magical story about the "witch" who lives there!!! She is a good witch, of course!!!!
On 10-31-08, I received E-mail that said:
It is halloween season and it made me think about "The Castle" back home. I searched it and found your site. Just to let you know, the castle is still owned by the Hasse's. I used to work for a construction company in Peoria and we were the company who did most of the maintnence on it. The Hasse's keep the house maintaned very well and put a lot of effort into keeping the halloween spirit going. I wish there were better pictures of this masterpiece.
On 2-7-11, I received e-mail that said:
While looking for the latest information about the castle in Peoria, I came across your web site. The castle belonged to the Lusk family (I am still in contact with Julia, not Julie, Lusk who was once the Little girl who lived there). She has many wonderful stories and family pictures of her childhood in the castle. As young girls, she and her sister, Nancy Lusk Jackson owned the dollhouse mentioned in your e-mails and it is now in my possesion. I am forwarding the e-mails about the castle to her. She will certainly get a kick out of all the stories circulating about her old home.
On 5-4-14, I received e-mail that said:
You can Google for "This exquisite piece of Peoria's history" and find that there was a reference to this property addressed as "4717 N Grand View Drive" when the property was recently posted for sale at http://www.peoriahomeoffice.com/property/4717. The asking price? $2 million.
On 10-13-14, I received e-mail that said:
This story has a lot of information that, to my knowledge, is all correct. My family knew the Hasses and has been there countless times. http://m.pjstar.com/article/20140912/Lifestyle/140919702
On 1-1-17, I received e-mail that said:
Hello! Wanted to pass on some new info regarding The Castle On Grandview Drive in Peoria Illinois.
Once owned by the Lusk and Haase families, it was bought in 2014 by the Soderstrom Family. Dr. Carl Soderstrom is a well respected dermatologist in Peoria. It is not affiliated with Peoria Country Club, except that the Soderstrom's are members and regularly hold parties catered by the CCP's great chefs. They still do Halloween.
The castle underwent numerous renovations this year and had extensive landscaping and stonework done to driveway and walkways.
Little fact: back in the day the castle had a water-feature-type moat that went under the bridge. Not anymore, sadly, but I hear the pumps and system to run it are still in place if anyone decides to change their mind.
Back to "Castles of the United States"

First photo courtesy of Steve Kurt. Second photo courtesy of Bill McMilleon.