OAKHURST CASTLE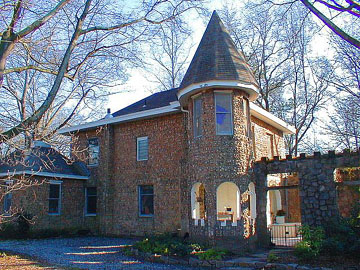 I received E-Mail that said:
I wanted to share with you a home I rented for a while and I currently manage as the owner's designated property manager and Realtor. This home is very well known in Atlanta. About 12 years ago, the current owner Ken Askew purchased the property during a time when the City of Decatur was trying to figure out a way to bulldoze it. The Oakhurst area was not a very good or safe area and this home was overgrown and boarded up. Since Ken's purchase, it has been completely renovated with modern conveniences while maintaining the 100 year old heart of pine floors throughout, the oak staircase and the oversized restoration glass windows on both levels. I was able to obtain a historical appraisal which helped me track down the family of a former owner, Francis Bismarck Judson, whose brother established the acclaimed Judson Studios in California, a stained and art glass foundry.
The courtyard on this home showcased an expansive stained glass roof at one time which wasn't very practical, but undoubtedly was very dramatic with the gas light torches at each corner. Even now bits of stained glass can be found when digging in the landscaped beds. During the Civil War, heavy skirmishes broke out just blocks away from this home near the current site of Agnes Scott College, and troops were reported to have rode down Fayetteville Road. Another former resident of this home, an elderly Mr. Lee met with the current owner and stated that a Confederate soldier was buried on the property. The makeshift gravestone has since disappeared.
Currently the home is on the market and the summary below is being distributed to architectural and high end magazines in hopes of finding the next owner who will continue to lovingly restore this historic property.
TRULY UNIQUE CASTLE HOME, CIRCA 1900, ROSE QUARTZ EXTERIOR, Stone Mountain GRANITE AND MARBLE COURTYARD, PARAPET, TURRET, Owner commissioned FAUVIST-STYLE CEILING MURAL IN GOURMET KITCHEN, Coach-house renovated to an ARTIST STUDIO, FEATURED ON DECATUR 2003 Holiday TOUR OF HOMES. FOR ADDITIONAL PHOTOS, PLEASE VISIT: WWW.METROHOMESATLANTA.COM LORI CROW OR KEN UNGER, 404-843-2500
Back to "Castles of the United States"