TYECLIFFE CASTLE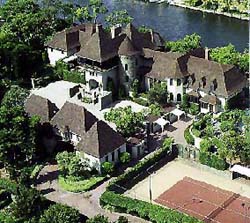 I received E-Mail that said:
IN FLORIDA: "TYECLIFFE CASTLE" - GERMAN STYLE, 5 STORY CASTLE, 24,000 S.F. BUILT IN LATE 60'S EARLY 70'S, DESIGN BY ARCHITECT JOHN VOLK , IT IS LOCATED IN THE CITY OF CORAL GABLES, FLORIDA.
Later, I received more E-Mail that said:
Tyecliffe Castle (Coral Gables) is presently for sale, and has been so for a number of years. Featured in the current (?) Christies Great Estates magazine, it is the residence of Mr. & Mrs. Wackenhut of the same name bearing security protection fame.
I received more E-Mail that said:
Tyecliffe, Coral Gables, Fl:
24,000 sq. ft medieval-stle manor on Biscayne Bay in Coral Gables owned by Ruth Wackenhut. 3-acres in size. Among the items with the estate are, private pathways winding through caves and grottoes, a tunnel which takes one up the cliff to equisite Italiante gardens, a pool dressed as a woodland pond, handsome cobblestone courts, and turrets standing guard over 530 feet of prime Gables Estates waterfront.
A great hall inside is authentically designed with massive oak doors, a wrought-iron chandelier, and columned vaults that soar two stories high. There is a hunting lodge on the grounds as well as guest house and 'Tyde's Tavern', an English country pub.
Listed by LenCor Int'l Properties (Summer '97) a Christie's Affiliate: $23.5 million.
Later, I received E-Mail that said:
I saw Tyecliffe Castle on tv, it was on "Famous Homes & Hideaways". It is for sale, again and what a bargain! It can be had for the small sum of 19 million!!!!
On 11-21-07, I received e-mail that said:
Just thought you may want to update the TYECLIFFE CASTLE. It was sold October 2003 for $10,500,000.00 and then was torn down to the ground this a couple of days ago (Nov 17, 2007). I will send you a couple of pictures of one of the walls still remaining. I live a few doors down and knew it as Wackenhut's Castle when I was growing up.
On 5-9-08, I received e-mail that said:
I visited adam and eve architectual salvage in palm beach florida and they salvaged the tyecliffe castle and have all the windows doors, light fixtures, cabinets you name it for sale. The owner was telling us where it all came from and I was interested to find out about it. I found your website by an internet search and appreciate the info.
Back to "Castles of the United States"