VIANDEN CASTLE - BETTENDORF CASTLE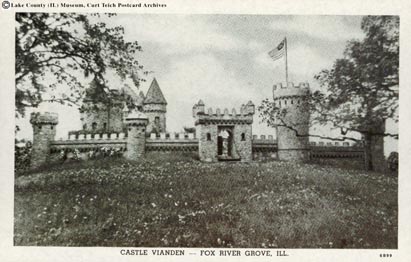 I received E-Mail that said:
My husband had taken me to a castle in Fox River Grove/Barrington, Illinois area back when we were dating. So, when I saw you mention that castle I really wanted to see it once again. It is located on Concord ,but it is pretty tricky to find if you don't have exact directions. You can see the very tip of the peaks from the major highway, but you have to know where to look into the trees. I can send you a map of directions and a picture I just took this past month. However when we pulled up to the front of the castle, it is all fenced in and a not-so-friendly looking man with a rake came down and stared at us. Even though we were in our car and in the street, I don't think he appreciated us looking so we quickly departed.
They have changed it a great deal since the 1980's when I had first seen it. They have constructed a curved brick wall bordering the drive up to the castle so you really can't see the castle itself. I also work at a local library here and happened to pull up the North Suburban Library System site and found an original picture postcard and some info that you might be interested in. It seems it was called Castle Vianden. I'd be afraid to send you a copy of the article & picture as it is copyright protected.
Later, I received E-Mail with the above picture:
I grew up in Fox River Grove, IL but have been away from there for the past 19 years. I did get these pictures of the castle when I was visiting in the winter of 1984. When I was younger, I remember hearing that the original owner had been born Europe but had come to the states as a young boy. He built the castle from what he remembered from his childhood and a postcard he had. I am researching this further and will send along information as I get it.
Later, I received E-Mail that said:
Early in the 1970's, I attended a wedding ceremony held at the castle because the couple being wed had rented the castle for the week-end. I have no idea HOW they did this and have since lost contact with the couple, but my understanding was that it was privately owned and rentable at that period of time. The grounds were well-landscaped and charming. Inside, it was surprisingly small and had a few sets of armor among the decor. I think we were all told how it had been shipped here stone by stone (from Germany, I think) and then re-constructed here in as authenic a manner as possible. There used to be a restaurant (which still exists under a different name) across the street called the "Castleview" and I imagine the owners of that establishment were well-versed on the history since they sort of "took advantage" of the castle's intrigue for the benefit of their business. I don't know their name either, but I think it's been less than five years since it changed name. The castle has always been private property and mysterious, as long as I can remember.
Later, I received E-Mail that said:
The castle can be viewed from Rt. 14 in Fox River Grove, IL. When inhabited by the original owners, multicolored lights were directed onto the castle at night and the castle grounds were open for viewing during the day. Later it was sold and the grounds were closed to the public. I believe the new ower's plans were for using the grounds to rent out for weddings and possibly as honeymoon retreat? This transaction took place many years ago.
Later, I received E-Mail that said:
I have a book titled "Slow Down! You are in Friendly Fox River Grove" published in 1951. There are two pictures of Castle Vianden in it. Ted Bettendorf, a Chicago machinist, spent 20 years building it. He was born in Vianden, Luxemburg, where he played at the original Vianden Castle when it was in ruins. There was an article in the Chicago Tribune from May 3, 1942 describing it. It was made out of stones (we have lots of stones and gravel pits in McHenry County). The four turrets contained :
(1) a shower
(2) a clothes closet
(3) winding staircase to basement and
(4) a toilet
Mr. Bettendorf never was married. The "castle" is privately owned now as a home. I think the people just want their privacy. The castle has not been open to the public for years.
Later, I received E-Mail that said:
Here is a picture of the castle from a post card
Later, I received E-Mail that said:
I found some more sites on Google for Vianden castle in Illinois. They seemed to be very useful.
http://www.castles.org/castles/America/FoxRiverGrove.htm

On 1-22-09, I received e-mail that said:
Here is an additional link I found on Vianden Castle. This is an aerial shot of the current castle.
http://wikimapia.org/2240997/Vianden-Castle
On 9-1-10, I rceeived e-mail that said:
I thought you would want to add this link to the Vianden Castle, IL.
http://www.bettendorfcastle.com/
Back to "Castles of the United States"