HOQUIAM CASTLE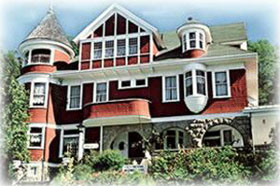 Construction on Hoquiam Castle was started in 1897 and the completed in 1900. It consists of 10,000 square feet, overlooks tha town of Hoquiam, and was built by lumber baron Robert Lytle. Lytle acquired his fortune from his electric saw mill which was the first of its kind on the west coast. The Lytle family lived in this unique home until they moved to Portland in 1910 and generously gave it to their niece Theadosia Bale as a wedding gift. Theadosia lived in "the castle" until the late 1950's. Upon her death, almost everything in the house was auctioned off the the house itself was put on the market for $14,000.
The house was subsequently left abandoned for several years, the neighborhood children used to slip in and play haunted house and roller skate. In 1968 the house was purchased by the Watson family. The Watsons were responsible for much of the restoration and for the collection of many of the antiques inside. They also started tours of the mansion. In 1992 Jim Spencer bought the house and lived in it while continuing the tradition of allowing tour groups to visit.
Then in 1999 David and Linda Carpenter purchased the home to operate as a bed and breakfast. The Carpenters restored the home to its original magnificence, with five beautifully remodeled bedrooms and private baths.
Click here to visit the Hoquiam Castle web site for more information:
http://www.hoquiamcastle.com
To return to this page, click on the BACK button.