SLEEPING GIANT CASTLE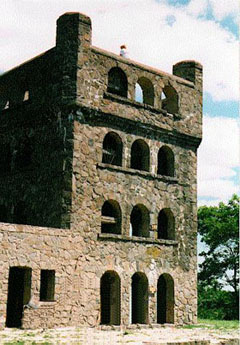 I received E-Mail that said:
There is a large stone observation tower type castle on a hill in Sleeping Giant State Park in Hamden, Ct.
Later, I received E-Mail that said:
I saw on your web site a question about the castle on top of Sleepy giant mountain. My sister went to Quinniapac College, which is at the base of the Mountain and I love Castles, so that is where my husband took me to get engaged. It is nice. It is more of a look out tower than a Castle with rooms. But still worth the climb up there on a beautiful day you can see forever and what a surprise you find at the top. A lot of people go there and it has been vandalized by a lot of lovers I guess no one really keeps it up.
Later, I received E-Mail that said:
I was looking through the CT. listings on your site and noticed you needed some info on the Sleeping Giant view tower. I looked around quickly and found that the four story tower was built in the late 1930's by the CCC (Civilian Conservation Corps.) I believe it was recently renovated in 1986.
It is listed on the National Register of Historic Places as well:
CT -- New Haven Sleeping Giant Tower 200 Mt. Carmel Ave. at Mt. Carmel summit, Sleeping Giant State Park Hamden 09/04/1986 Connecticut State Park and Forest Depression-Era Federal Work Relief Programs Structures TR 86001754
Back to "Castles of the United States"