ROCK CASTLE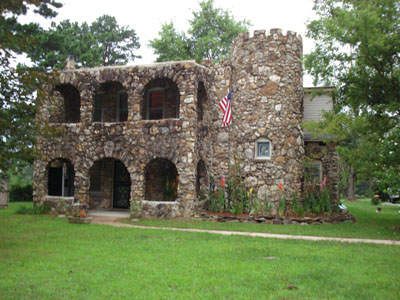 I received E-Mail that said:
The castle was built by Walter Pilz. The land plot was 140 acres originally, and the old frame house that the family moved into initially caught fire in 1934 and burned to the ground. Not one to be deterred, Mr. Pilz decided then to build a home that would be less prone to burning down to the ground, so he picked up rocks from his 140 acres, and collected the gravel and sand from the Meramec River just down the road, and along with some steel; proceeded to build his own castle! The whole structure is built with home poured, steel-reinforced concrete and local fieldstone. Floors and all. The home was completed in 1942. Mr.Pilz went on to build several homes in the area, but none with the originality and vision of what is now known to thousands of locals as the Rock Castle. Mr. Pilz passed on in 1964. His grandchildren still live (some of them) on this very road.
The Rock Castle now sits on a beautiful 3-acre tract with a nice pond, many ornamentals and fruit trees and is owned by John and Theresa Prenger, and serves as their primary residence along with their two sons, Michael and Trint. The only recent addition to the structure is a small framed bathroom that was added in the 70's which is nice to have upstairs! Interior features include tall vaulted ceilings, ornately carved trim work, and of course, all the walls are plaster. The crown of the tower is accessible, but serves primarily as the enclosure to the hand-poured concrete stairwell that connects all three levels.
There are a couple more very intriguing features here that involve the word "hidden" as well! We have current plans to build a large patio out of the back door for entertaining friends and family, and our long-term goals include turning the place into a bed and breakfast, once we are ready to 'retire'. At this time, we do not give tours, and we expect to have our privacy as does anybody else. We are used to having people slow down and even stop as they are driving by. That is not a problem, and we do not frown upon it. We are working hard to maintain and build upon this wonderful legacy of a man who built himself and his family a life, as well as a unique and marvelous home.
A little more information about the builder:
The home was built by a Walter Pilz, a German immigrant who arrived stateside in 1901. Walter made it to the U.S. by the age of 17, worked in New York until he learned the English language and saved up some money. By 1905 he had made his way to New Orleans and then, by steamboat, up to St.Louis, where he first worked at a factory for $1.00 a day (12hrs.) and then, later, he worked for the railroad. By 1912, Mr. Pilz partook of the Homestead Act, which he honored by successfully homesteading and improving the land. By the age of 28 he had received the title to his ranch in Wyoming, and also married (Anna Ziglar).
The remoteness of their condition, eventually convinced the young family to move to a less rural setting. So they ended up next in Wisconsin, where Mr.Pilz worked as a blacksmith and performed general maintenance at a lumber camp. He also maintained his own farm at the same time, raising cattle and bees. By 1927 the couple once again picked up and moved (partially due to Anna's failing health; so they headed south for warmer climes. Mr. Pilz sold his Wisconsin farm and around 1934 moved his family to the ground where this castle now sits, on Hwy. O, just a bit south of Cuba, Missouri.
Back to "Castles of the United States"

Photo and information courtesy of John and Theresa Prenger.

Most of this information was made available by, and credit for Mr. Pilz' history goes to Ms. Tracy Fischer, who in 1983 in the Cuba, Mo. High School annual book "BACKROADS" had an article published about Mr. Pilz.