HOVENWEEP CASTLE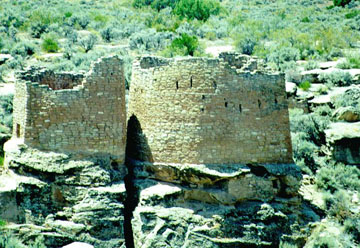 I received E-Mail that said:
Check out this link:
http://www.rjsmith.com/san_juan_river.html
Later, I received E-Mail that said:
Hovenweep Castle is actualy Anasazi Indian Ruins located in Southwest Colorado. Not a castle, but still interesting.
Does anyone know more about this? It may not quite be a "castle", but it looks like it was built for defense.
Later, I received E-Mail that said:
Hovenweep has a tower but is not a castle. I think it is more like a defense structure. From the literature that I have it claims that The original inhabitants constructed these pueblos and towers in order to protect their precious sources of water. The tower walls and pueblos are constructed of excellent coursed-stone masonry. Some walls stand more than 20 feet high. Loopholes at strategic points in these walls command the approaches to buildings, trails, and springs. By the way, they adopted stone masonry between 900 and 1000A.D.
It is becoming more popular as a site and there is a very nice visitor center there now with access to good hiking trails.
Back to "Castles of the United States"


Photo Copyright © Ray Smith, 2000
Link sent in by Katrina Price.