RUBEL CASTLE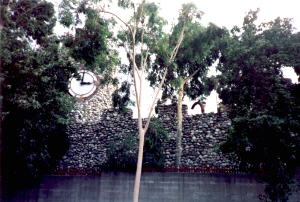 I received E-Mail that said in part;
In the city of Glendora California North of Foothill Rd. and West of Comprimise Line, I have seen a medieval castle which is surrounded by a large block wall. I cannot give the exact location, as I stumbled upon it and then in an effort to prove what I saw to my friends, could not find it again!
Later, I received E-Mail that said:
I don't know if you have this information already or not, but I accidently came accross your castle web site, and saw the information request on Rubel Farms. I've lived in Glendora for 20 years, and walk by the castle all the time.
I don't have actual facts of the history, this is all I know. If you don't have information yet, I can try to look for more. Glendora was known for it's citrus groves, and there was one owned by the Rubel family. I think the original Rubel, it was his grandson that started building the castle. He's older, but still alive so the beginning of construction couldn't have started too long ago (maybe 30 or 40 years). I believe that he's really eccentric, though I've never met him. I think the guy is in his 60's. The castle is on the corner of Live Oak and Palm. It's surrounded by a wall, but you can see plenty of it. They give tours to the school kids every once in awhile.
I received more E-Mail that said:
The castle in Glendora (if it's the same one) appears to be a house that someone has layered river rock over in the form of a castle. It does have some of the classic "castle" look to it. I have some pictures that I will send you when I find them, they've been buried for some time.
Later, I received E-Mail that said:
The Tin Palace, the Glendora Castle or simply: Rubelia, was built starting in 1961 by Mike Rubel and 1000's of friends over the following 28 years. Built on 2 acres of ancient Roman ruins from river rock and whatever else came to hand, Mr Rubel's job in life is to keep everything from going to the dump. The castle is a private residence and is not open to the public. The owner would prefer that you not list the street address or phone numbers.
Later, I received E-Mail that said:
Several years back I took my Cub Scouts for a tour of Rubel Castle. We heard the caretaker liked chocolate chip cookies so we made lots of them for him. At the time is was listed in the phone book and he gave tours by appointment only. Just checked. Yep, it's still in the phone book!
Later, I received E-Mail that said:
I visited Rubel's Castle in the 80's, by appt., with a group. It was a very unique experience. Parts of the "castle", consist of walls with objects flowing out of the walls, like motorcycles, gears, clock parts, jewelry. Anything and everything. Mr. Rubel is a very creative and eccentric man. On our tour, there were parts of the house's guest quarters we couldn't see because some Danish royalty was staying there. Apparently Mr. Rubel entertains certain nobility and famous guests on occasion. We found alot of artists around that use the place to learn and expand on their craft.
I remember there was a particularly old printing press that was quite a treasure for the newer artists to experience, and the whole place, which is several rooms and buildings, house a huge number of interesting antiques. I'ts not Hearst Castle by any means, but equally as memorable an experience.
Later, I received E-Mail that said:
Rubel Castle in Glendora is a fascinating place, but it is NOT built on "roman ruins" since the Romans, to my knowledge, never quite made it to California! And yes, that "Unknown Castle" in "Pomona" is indeed Rubel castle--those towns all run together--Pomona, Glendora, Azusa, and Laverne.
Later, I received E-Mail from Mr. Rubel that said:
I am developing a site so curious people can learn a little more about the Pharm (or castle). http://www.invitesite.com/pharm/castle_pan.html
On 7-16-11, I received these links:
http://en.wikipedia.org/wiki/Rubel_Castle
http://dwaynehunn.biz/rubelia.htm
http://www.flickr.com/photos/rubelcastle/5724787817/in/photostream/
Back to "Castles of the United States"