UNKNOWN CASTLE ??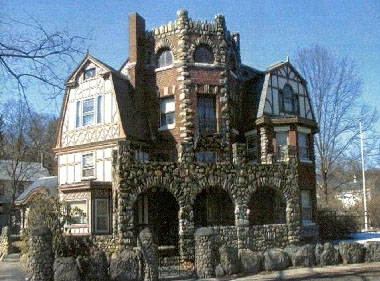 I received E-Mail that said:
YOU MAY BE INTERESTED TO KNOW THAT THERE IS A PRIVATE HOME ON THE VFW PARKWAY IN, I THINK, WEST ROXBURY,MA THAT FROM THE STREET LOOKS MUCH LIKE A CASTLE.
WHEN I WAS YOUNG, WE MADE NUMEROUS TRIPS IN AND OUT OF BOSTON AND I ALWAYS KEPT A LOOKOUT ON OUR ROUTE FOR "MY CASTLE"...I DO HAVE PICTURES THAT WE TOOK OF THE HOME ON MY LAST TRIP OUT. THE PICTURES ARE QUITE DEAR TO ME AND ARE ACTUAL PHOTOS, I WILL TRY TO SEE IF I CAN SCAN THEM SOMEPLACE TO SEND THEM TO YOU.
After seeing a photo, I'm not sure this quite fits my defination of a castle. It is an interesting building though, so I'll keep it on the webpage while I think about it.
Later, I received E-Mail that said:
I live right down the street from there, and although the house looks castle-like, thatís just common architecture around parts of Jamaica Plain and West Roxbury. The original settlers of Boston made their vacation homes in JP and West Roxbury, so you can find many large houses overlooking the Arboretum (a large park maintained by Harvard University) and along Jamaica Pond. Driving through some of the back roads from VFW Parkway, one can find a plethora of these tutor style homes, with stone work/architecture embedded within them. Some of them have large stone towers (some look like there is an open space in the tower, like you could climb up inside of it), and some of small towers on their properties (donít know what the purpose is, perhaps they are wells).
Back to "Castles of the United States"