LOCHER CASTLE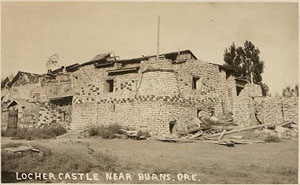 I received a photo of Lochter Castle which is or was near Burns Oregon. Does anyone know anything about it?
Later, I received E-Mail that said:
The Locher castle in Burns, Oregon was built by my Great Grandfather, Paul Locher, in the 1920s. He cut the stone and built it by himself. The castle was demolished in the 1950s.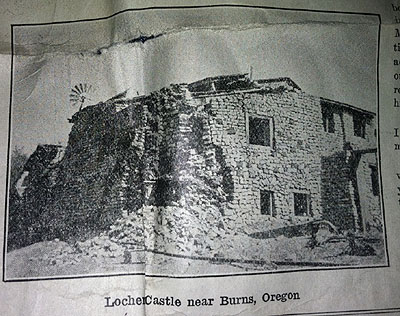 On 1-15-12, I received this photo and the following message:
My name is Cheyenne Butler. My great aunt Wanda Wambsgans lived in the castle as child. Her parents were Harry St. George Tudor Wambsgans and Kathryn Wambsgans. My great grandfather had huge plans for the castle. He had planned to create a ballroom, is what my great aunt tells me. I don't know for a fact when it was demolished, but I think damage had been done to it some years before. I found this newspaper clipping in a box in my great aunts attic. As far as I know, she may be one of the last Wambsgans alive. She is 88 years old and be 89 this year. It's amazing to have a family history this great.
On 3-10-12, I received e-mail that said:
My mother and her sister lived in this castle as young children with their parents Harry and Kathryn. Cheyenne who previously wrote to you is my neice.
My grandfather actually hosted dances in the castle and the bigger bands would play the venue when traveling east/west. My grandfather was an expert carpenter and he built a dance floor there. Grandmother would make fresh baked buns for burgers which were sold during the dances. As I was told, people came from all around to the dances.
There was an artesian well inside the castle where they got their water. My mother remembered taking people on tours of the castle when they visited. She was throughout life quite a historian and said she enjoyed this "tour duty".
There were several floors and many were unfinished so you would have to skip along on beams to get around. When at home alone and the young sisters saw stranagers coming up the road, for you could see and hear them for miles before they arrived, the girls would scurry up and into the rafters so that they would not be found.
My mother, Evelyn Wambsgans, told these stories to me when I was young. It seemed like such an adventure.
On 10-14-14, I received e-mail that said:
The Locher Castle was never occupied. I don't know what my distant cousin was told.
Paul Locher, the builder of the castle, also built a church out of stone. He also built a roller rink, which is probably where the events that Butler discussed were held.
The castle did have a warm spring under it.
Paul Locher also brewed beer commercially.
Back to "Castles of the United States"

Thanks to Phil Bilzor for sending the first photo, and Cheyenne Butler for sending the second.