CASTLE CLAIRE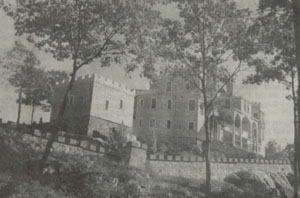 I received E-Mail that said:
I was searching for information on your site regarding a castle that was in my neighborhood as I was growing up. The name was Castle Claire, located in Greenwood, Massachusetts on Acorn Avenue. It was located at the end of a long uphill winding untraveled road thru the woods.
If I remember correctly, it's construction began in the 30's and the perimeter wall took 20 years alone to build. Built completely by wood by the owner of the property for a vacation home for his wife... with general and limited carpentry skills.
The castles' life was short lived however and 'mysteriously' burnt completely to the ground in the 70's after its owner had died and the property eventually abandoned by his children.
Myself and childhood friends would often make the long treck thru the woods for a mile or two for a Saturday 'excursion.' Here are two photos I had gotten from a local newspaper when a small story was done on it. A beautiful castle with a sad short history.
Later, I received E-Mail that said:
I have been doing some research into my Mother's family history after she told me about an uncle who built a castle. It was in a small town in Massachusetts just outside of Boston. Her uncle was named Clarence Hoag (changed from the Scottish Hogg) , and they called him "uncle Clare". She told me that the castle was called "Castle Clare". I showed her the picture on your web site but she wasn't 100 percent sure it was the same one since she was only around ten when she last saw it in approx. 1950. She is trying to find a picture that is stashed in a cedar chest somewhere. I'll email it to you if she can find it. If it is the same one I may be able to get some more history on it also.
Does anyone have more information about this? Since it is no longer in existance, I may remove it at a later date.
On 11-3-05, I received E-Mail that said:
Though this "castle" (which I viewed as a child/teenager after hiking/blueberrying in the woods many times in the 1940/50's) was destroyed by fire, you should retain the picture and references to it on your site for others who might be searching for information.
Acorn Avenue has fallen into extreme disrepair and is no longer used to get to the former castle area at the top/end of Acorn Avenue. New homes have been built on the acreage where the "castle" once stood, and a new street provides access, bypassing the old Acorn Ave.
On 1-30-09, I received e-mail that said:
I grew up just over the hill -about 500 feet from Hoags Castle in Saugus. I was in it several times, I still have an old gate hinge I found long after the castle burned. Many ashes from the fire fell in my yard. As a kid we always played in the woods behind the castle and would catch frogs in the casles 'moat'. There was a painting on the high rocks (where we used to climb) to the right of the castle that was supposed to have been painted there by Mr Hoag. There is also a small pond to the right of the castle that we called Hoags pond and was the site of many hockey games after school. From the hill just behind the castle was the start of our narrow ski trail that we cut right to my house. We had lights hung so we could ski at night.
On 7-26-10, I received e-mail that said:
I grew up in Methuen, MA and was reading about Edward Searles when I also came upon your article about Castle Clare. Clarence Hoag was the builder of the castle and my grandfather helped him with much of the interior carpentry according to the stories of my father. My grandfather would walk from Malden, MA to Wakefield to help Clarence build if. I went to school with a great- nephew of Clarence's who had retained the original spelling of Hogg. It seems that the Hoggs and the Hoags had little to do with one-another. As a kid we used t go hiking in a place called Breakheart Reservation which was on the Wakefield/Saugus (Mass.) line. The highest point in the Reservation was called Castle Rock and overlooked Castle clare which was situated on an adjacent drumlin.
On 2-11-19, I received e-mail that said:
This is a link to a 1940s radio program discussing the castle and its builder:
https://www.youtube.com/watch?v=mq6-WptCBJg&list=PLE-PZ1SluxL9PW3DN5abaGEtRve9-EAGY&index=18
It's a very interesting story,
Back to "Castles of the United States"