STAR VALLEY CASTLE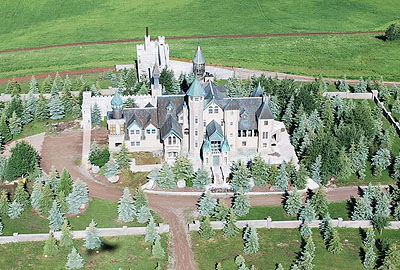 On 2-23-13, I received E-Mail that said:
I noticed that you do not have a castle up for Wyoming. I found this one. Here is the link. http://www.backcountrypilot.org/forum/viewtopic.php?f=1&t=4692&hilit=castle
I have not seen this place personally. It came up on a search for castles. I love this site. I am going to North Carolina this summer and will definitely be visiting Asheville. Thanks for all of the information.
On 7-13-14, I received e-mail that said:
The Unknown Castle In Wyoming is officially known as the Star Valley Castle. It sits on a nice little mountain top on the East side of the Star Valley, roughly halfway between Alpine and Afton. It's maybe 700' above the main valley, and has a great view, and its own quite long access road. The newest addition I've seen this year is an airstrip, apparently part of the compound as a new road connects the two.
Back to "Castles of the United States"