RITTERSBURG CASTLE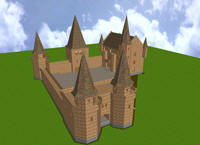 On 2-19-06, I received E-Mail that said:
I am in the planning stages of building a castle. I just thought Iíd let you know that things are rolling and Iíve put up a little web site about my castle endeavor. I hope you donít mindÖI put a link on my site to your site in the unlikely event someone stumbles upon it and is unaware of your work. Here is the link to my dream should you like to take a look and pop it on your pages if you feel so inclined. http://www.rittersburg.com

Back to "Castles of the United States"