CASTLEHAWK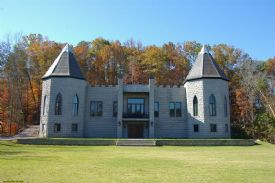 I received E-Mail that said:
Castlehawk is a 70 acre gated estate with a 12,000 sqft stone castle. The 4 bedroom, 3.5 bath home includes all state-of-the-art appliances, 14 foot ceilings throughout, an 18x36 foot indoor pool, and a 4+ car garage. The property has several outbuildings, approximately 10 acres in cleared bottom land, a 3 acre stocked pond, and miles of equestrian/ORV trails over rolling wooded terrain.
Click here to view it:
http://www.landandfarm.com/lf/asp/full.asp?id=251209
To return to this page, click on the BACK button.
Back to "Castles of the United States"