HAMMOND CASTLE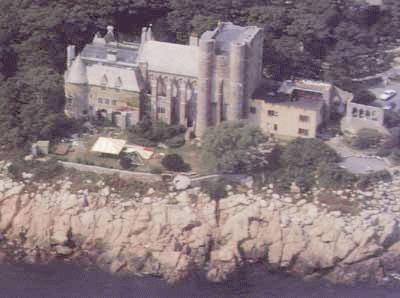 Hammond castle is located on the coast of Massachusetts near Gloucester. The castle which was constructed between 1926 and 1929, was the home and laboratory of John Hays Hammond Jr. Mr. Hammond was an inventor who was a pioneer in remote control and held over four hundred patents. The building is a collection of 15th, 16th, and 18th century architectural elements and sits on a hill overlooking the Atlantic ocean.
Visit their homepage by clicking here. http://www.hammondcastle.org/
To return to this page, click on the BACK button.
Later, I received e-Mail that said:
I am the biographer of John Hays Hammond. Jr. -- the builder of Hammond Castle. If you feel it would be helpful to link your Hammond Castle page to my Hammond Castle site, please feel free to do so:
http://www.johndandola.com/JohnHaysHammondJr.html
On 2-8-09, I received this link to some photos of Hammond Castle:
http://www.dijitalphotography.com/gallery/Kingsandqueens.html
On 3-16-09, I received e-mail that said:
I visited Hammond Castle this last summer and took a lot of pictures. Feel free to add them to your list if you wish: http://picasaweb.google.com/another.email.address4me/HammondCastle?feat=directlink
Back to "Castles of the United States"