SAINT CLEMENTS CASTLE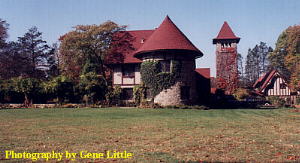 I received E-Mail that said:
Saint Clements Castle Located in Portland/Middletown area on the Connecticut River. It was owned by Wesleyan University at some point. It is now a facility for weddings, receptions, etc. I have never seen it, but have been told be several people that it is very nice.
Later, I received E-Mail that said:
I saw that you were trying to get some information about this. I am actually having my wedding there in August, 2000. The castle was built in the early 1900's by a New York attorney for his wife. He fashioned it after a castle that he had seen in Europe. It is located on approximately 66 acres on the banks of the Connecticut River in Portland, CT. The castle was used as a residence for a number of years and then trusted to Wesleyan University in Middletown, CT. Wesleyan would rent it out for tent weddings, as the grounds are simply beautiful and the Great Hall was the perfect place for indoor ceremonies.
In the early 1990's, after years of neglect, the castle was sold to a private trustee who initiated extensive renovations. It is my understanding from the wedding consultant that there were holes in the ceilings before these renovations. Although many of the antiques were removed by the original family, the new trustee purchases artwork and other items throughout the world each year to furnish the castle. They also added on a large banquet room a few years ago which can accommodate up to 250 people. They have also turned the location of the horse stalls into a tap room facility for small gatherings and have plans to erect a small inn on the site.
On 5-28-05, I received E-Mail that said:
My mother was the Coordinator of Events at Wesleyan University for several years and part of her responsibility was to show and rent out St. Clements. Many of my favorite childhood memories are from site visits there. My mother would show the castle to perspective brides and I would get to have my run of the castle and the grounds while she was showing it.
On 12-20-05, I received E-Mail that said:
You can read about the Castles history by clicking here.
http://www.saintclementscastle.com/about/history.asp
On 12-26-07, I received E-Mail that said:
I just wanted to provide an update regarding our listing on the site. Saint Clements Castle has been fully-restored to it's original grandeur (original portions date back to 1902), and has had 2 additions of formal ballrooms to formalize the operating business at Connecticut's Premiere Banquet & Event Facility. We are working on renovating our Marina on the Connecticut River, having just completed construction of a road/bridge, and will continue with our development in the Spring of 08'.
Saint Clements Castle
1931 Portland-Cobalt Road
P.O. Box 427
Portland, CT 06480
p (860) 342-0593 ext 228
f (860) 342-4337
www.saintclementscastle.com

Back to "Castles of the United States"