KID'S QUEST CASTLE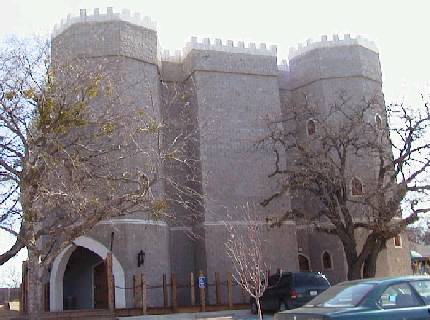 I received E-Mail that said:
I drive by this castle every day. I just found your site today and when I didn'nt find this one on it, I poked around on line untill I found out about it It's at the South West corner of a church that is at 5200 South Bowen in Arlington Texas. The church sits on the West side of south Bowen, between Bardin and South Geen Oaks. Their website is at http://www.childreninthemiddle.com/kidsquest.htm
On 6-24-08, I received E-mail that said:
I just wanted to let you know that the castle in Arlington TX has been sold to a St. Alban's private school since your last post about it.
On 2-19-13, I received e-mail that said:
I found some newer information on the castle shown as KID'S QUEST CASTLE on your list, in Arlington, TX. There is a lot of information about it in this sales brochure posted by a real estate company -
http://www.churchrealty.com/pdf/p743_Packet%20St%20Albans%20School.pdf
It includes floor plans, including what they show as "ACTIVITIES BLDG. (THE CASTLE)". The 3 floors are identified as "Activity Area", "Games Area", and "Basketball Area". A picture of the interior of what is likely the third floor is included, plus a satellite photo.
I don't know the current status of the site - the brochure from 2008 says it was unoccupied.
Back to "Castles of the United States"