BECKETT'S CASTLE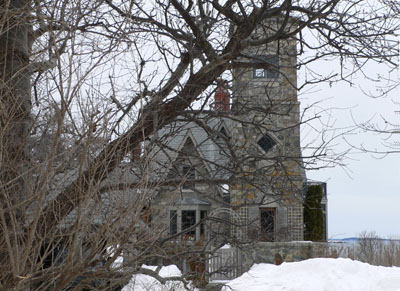 I received E-Mail that said:
Location: 1 Singles Road, Cape Elizabeth, Maine.
Description: Stone house in the gothic style with three-story tower, built in 1871 by Sylvester Beckett, who was a Portland publisher, attorney and poet. A passage from one of his poems, "Hester, the Bride of the Islands," reads:
If the soul dieth, if our years
On earth, of discord, joys, and tears,
Be all of life, then life is vain,
And Heaven's great work imperfect!
No! Death is but a second birth--
And man, immortal, oft returns.

Beckett died in 1882 and it is said that his ghost has haunted his castle ever since.
When I lived in Maine in the 70s and 80s, I visited Beckett's Castle with an acquaintance who knew the family occupying the house at the time. It is my understanding that the house is now vacant. I could not find a photo of this castle on the internet, but it is on the National Register of Historic Places.
On 1-11-10, I received e-mail that said:
My Dad drove past the castle (it's about 15 minutes from his house). It's address is actually 7 Singles Road and said it doesn't appear to be occupied at this time. It was purchased in 1892 from Walter Single by Nancy P. Harvery and was purchased from Nancy Harvey and David Perkins in 1997 by Pier Properties Incorporated. I got this information right from www.mainelandrecords.com and by calling the Tax Assessor in Cape Elizabeth, Maine.
On 7-22-12, I received e-mail that said:
I came across this website when I was searching for an image of the childhood home of my former husband Walter Singles Thomas. Walter and I were married at "Beckett's Castle" on April 12, 1988.
I was surprised at the information which stated that Nancy P Harvey purchased the property in 1892 from Walter Thomas. This information is incorrect. In fact, when Coronel Walter Singles died the house transferred to his son Walter Singles Jr. and Edna Singles Thomas. Walter Singles Jr. never married or had children and was found dead in a motel in the mid 1970's. Edna Singles Thomas had one son Walter Singles Thomas, my former husband.
When Edna was diagnosed with breast cancer, she assigned life tenancy to the castle to her boyfriend Bobby Linns on the deed to the property. Bobby Linns was not a reputable person and used the house for drinking parties, etc. The house fell into disrepair and delinquent on property taxes after the death of Edna in approximately 1972. Her gravestone can be found in Riverside Cemetery in Cape Elizabeth.
Walter Singles Thomas who should have inherited the house was unable to evict Bobby Linns and after several years and thousands of dollars in attorney fees, the castle was reposed for the tax liens imposed upon it. It was to be sold at public auction but information was given to Ms. Harvey prior to this and she purchased the castle for approximately $125,000 in the mid 1970's from the town office.
At the time Walter and I were married at the castle, Ms. Harvey graciously allow us the use of the property in consideration that it was his childhood home. I have pictures in storage in Belfast, Maine of Walter growing up at the castle from the 1950's as well as pictures of our wedding.
Walter and I never had children and were divorced in 2001. He now is remarried and lives in Nigeria, Africa working for Tidewater International Marine as a Captain of oilfield supply vessels. I haven't been in contact with him for a couple of years.
I could possibly be one of the few people who have this information about the history of the castle between Colonel Walter Singles and Ms. Harvey.
On 3-28-14, I received e-mail that said:
I am currently working for Nancy Harvey at Beckett's Castle. I just want to clarify that Ms. Harvey bought the house in 1982 at auction and she is still the owner and occupant of the property.
On 9-25-17, I received e-mail that said:
Here's an update for you regarding Beckett's Castle in Maine. It's on the market for 3 million. I used to know Bobby Lins (referred to in your listing) - he always swore up and down the place was haunted and that's why he was staying at Norman M. Thomas' place on Tate St in Portland most of the time as he couldn't stand the happenings going on.
Here's the article in today's Portland Press Herald. Beckett's Castle in Cape Elizabeth selling for over $3 million to http://www.pressherald.com/2017/09/25/spooky-cape-elizabeth-home-selling-for-over-3-million/
Does anyone have more information about it?
Back to "Castles of the United States"

Photo courtesy of Jeff Kinder.