STOKESAY CASTLE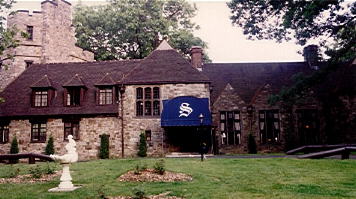 I received E-Mail that said:
I visited Stokesay Castle today for the 1st time. Located in Reading PA on Hill Rd. and Spook Lane it was built in 1931 by George Hiester as a honeymoon cottage for his bride, closely duplicating the original Stokesay Castle in Shrophire, England built in 1240 and still in existence. She did not find the castle to her liking and it was sold. In 1978 it was purchased by Charles F. Quade who today operates it with his son C. Scott Quade as a restaurant. A place to wine and dine and tour at your leisure.
The telephone book has the following information:
Stokesay Castle
Hill Road & Spook Lane
Reading, PA
610-375-4588


Later, I received E-Mail that said:
fyi about its size: Stokesay's total available interior space on public view consists of three dining rooms and one bar, plus rest rooms on a second floor passage. The turret area is not part of it.
Visit their homepage by clicking here.
To return to this page, click on the BACK button.
On 6-1-05, I received E-Mail that said
I had three great aunts who lived in Reading and we went to the restaurant during a visit for dinner and as is often the case dinner with old folks means 4:00 so our family had the place to ourselves and I found a stairway that lead down to what looked like a dungeon but was to afraid to look closer that was a long time ago and I had a younger imagination.
On 3-10-09, Lady Harriette sent an e-mail saying that Stokesay would be auctioned off on March 30, 2009. You can see the newspaper story here:
http://readingeagle.com/article.aspx?id=127213
On 3-30-2009, Stokesay castle was sold at auction. To see the newspaper story, go here: http://readingeagle.com/article.aspx?id=131854
Back to "Castles of the United States"