UNKNOWN CASTLE ??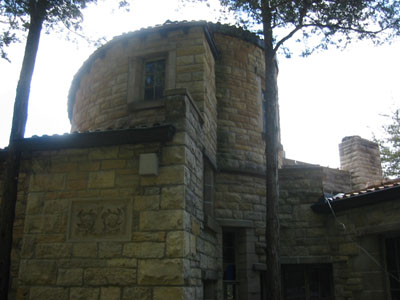 I received E-Mail that said:
About 10 years ago I dated a fantastic lady. Her family lived allong the St. Croix river (Quadrant Avenue) in Denmark township (walking distance from Afton State Park).
One late night when the parents were in town (Hastings Minnesota) she woke me up and took me down Quadrant Avenue. We went down a heavily wooded service road (about 1/2 mile) after passing racoons and wild turkeys. She told me to be EXTREMELY quiet as not to wake the dogs. We passed a small shack (looked like a 60s or 70s) house in disrepair. Continuing on about 600 more feet there it was..... English style limestone and flagstone castle. I had a powerful flashlight and was able to look inside the home. It was very elegant with heavy dark furniture. My favorite features were the grandiose fireplace and turf covered terraces overlooking the river.
The house did not look lived in. Caroline did not ever remember anyone coming or going from the house... didn't know anyone who had been inside it... when asked who owned it... she said the doughboy... I'm guessing that her grandparents may have elluded to the Pillsburys or something like this.
The well designed landscaping of this structure make it impossible to view from below the bluffs on the river.... being in a glenn..... makes it impossible to view it from the road.... The seclusion and mystique have always been of great interest to me. I'm guessing that it's zoned under Washington County - Hastings is the County Seat.
Later, I received E-Mail that said:
I know of this castle that is listed on your web page as unknown castle in Hasting MN. It belongs to a family, of whom I was friends with the grand-daughter as a small child in the mid 80's. I have stayed in the "castle" (or as we called it a villa) during that time and it is indeed a very impressive and immense dwelling. I however found it to be quite scary as an 10 yr old trying to fall asleep at night. The shack that is described is the grounds keepers, which they always had someone filling that position. It is primarily owned by the two brothers. The two brothers also own many downtown parking lots in Minneapolis. I believe that the other brother has taken control or ownership of the property the last time my mother had talked to them.
Later, I received E-Mail that said:
It looks like a castle from some angles. From others it looks like a big house made out of stone. I did not get any pictures of the backside, but that looks much more castle like. It is built on a hill so only 1 story of the front is visible but 3 stories of the backside are visible.
Back to "Castles of the United States"

Photo courtesy of David and Doug.