MANN CASTLE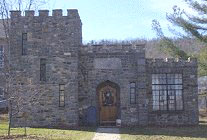 I received E-Mail that said:
. The West Paris Library was completed in 1926. The library is a unique building, built of native stones gathered from nearby fields and pastures, it was built in the style of medieval England, like a tiny stone castle. The late Lewis M Mann made a provision in his will for the erection of this building and also left for that purpose the land on which it stands. Above the original oak door with hand forged iron hinges is a large granite slab with the inscription Arther E Mann Memorial Library.
The library was officially acquired by the Town of West Paris in 1971. The building has been accepted into the Register for Historic Places by the Maine Historical Preservation Commission.
For more information, contact: The West Mann Library
226 Main Street
PO Box 307
West Paris, ME 04289
Phone: (207) 674-2004
E-Mail: bstevwpl@westparis.lib.me.us

Click here to visit an excellent site with a lot more information:
http://www.sad17.k12.me.us/libraries/wparis.htm
To return to this page, click on the BACK button.
Does anyone have more information?
Back to Home Page

Research for this page done by Phil Bilzor.