CROOKSTON CASTLE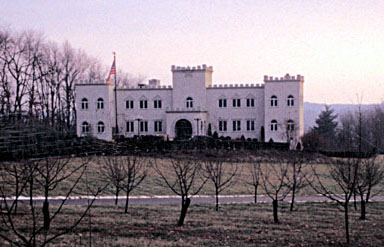 I received E-Mail that said:
Crookston Castle 14,000 sq.ft. On 126 acres in Clinton, OH. A fellow built it for himself, and it has always been private.
Later, I received E-Mail that said:
I had to laugh when I saw a picture of this castle, I live in Clinton, OH and this castle is well known in the area (it's not a big area). Yes, the gentleman who owns this does keep to himself…for the most part. I graduated with his grandson. His grandson had many parties there, sleepovers, hang outs and stuff. Everyone in the Northwest school district knows about the castle.
On 1-13-09, I receivd e-mail that said:
This Castle is currently for sale (unfortunately I can not afford it). It lists it as being 9,338 square feet and situated on 10.2 acres. For you viewing pleasure I have included the link.
http://www.cutlerhomes.com/listings/detail.php?lid=41903226&hdoor=&state_id=&listingcid=9991&fid=9&navn=&&&posc=&post=&cfq=&
Does anyone have more information?
Back to "Castles of the United States"

Photo sent in by Phil Bilzor - Castle found by Jim Holley.