ALTGELD HALL CASTLE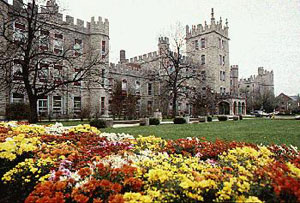 I received E-Mail that said:
Built from 1895 to 1899, the "Administration Building" was renamed in 1963 for Illinois Governor John P. Altgeld who backed and signed the necessary legislation for the creation of the institution. Architects designed the building according to the wishes of the governor who had a fondness for the Tudor Gothic, or the English-castle style of architecture. The only building of the institution until the construction of McMurry Hall in 1911, Altgeld originally held eleven "grotesques" placed along the "battlements" and atop the central tower. Nine of the original eleven still maintain their places, and one now occupies a place in the east garden--a victim of lightening in 1973.
Later, I received E-Mail that said, in part:
I just came upon your website dealing with castles a short while ago, and must say that I find it extremely interesting, and well put-together. Being a resident of Illinois, and having gone to Northern Illinois University, I was surprised that SIU also had an Atgeld hall. Anyway,there is a brief paragraph on Atgeld Hall talking about the gargoyles (or grotesques) that were placed on the building. You might be interested to know, that the gargoyle that had fallen to the ground was named via a student contest a few years ago. It's name is "Olive Goyle". (I'm serious...)
Later, I received E-Mail that said:
Just a note: Olive Goyle, one of the original grotesques of Altgeld hall rests in the east garden of our campus, not merely because she was struck by lightning. You see, in 1895 during our first graduation ceremony, she was struck by lightning right after the commencement address was given. She was replaced on her pedastel in line with thinking that lightning never strikes the same place twice, only to be struck again during the following year's commencement ceremony. On October 14, 1966 she was struck for the third time. It was then determined that she simply preferred to be among us rather atop the castle. In 1973 she was moved to the east garden of Altgeld Hall
Because Governor Altgeld wanted a stately building to unify the state normal schools he had five castles built across the state at NIU, EIU, SIU-Carbondale, ISU, and U of I. In January of 1996, one morning Olive Goyle was found to have been beheaded during the night. Fortunately, her head was located reattached by grounds crew masons. Unfortunately, days before the May 2001Commencement Ceremony, she was found to have been beheaded yet again. She remained headless until September of that year.
On 1-17-08, I received E-Mail that said:
I'm a student at NIU, and I would like to correct an error in your information considering our fallen gargoyle. You say that her head was replaced a year after it was lost. In fact, her head is still missing. There is a rumor that the person who finds the head will be given free tuition. Students replace her head with different objects throughout the year. In October, they give her a pumpkin for a head.
Another point I'd like to make is that there are actually more Altgeld Hall castles in Illinois than you list on your website. There are actually a total of five. There is an Altgeld Hall castle at Northern Illinois University, Illinois State University, University of Illinois Urbana-Champaign, Southern Illinois University, and Eastern Illinois University. There is a story that says that if the castles were all put together their hallways would match up to create one giant castle. I'm not sure how much truth there is to that.
Back to "Castles of the United States"